Research & Digital Horizons visit to Lancaster University Library
15 Dec 2022
In September 2022, members of the Research and Digital Horizons Directorate Management Team, visited Lancaster University Library, for a day full of sharing best practice, innovation, and thought-provoking discussions around the current landscape in Higher Education.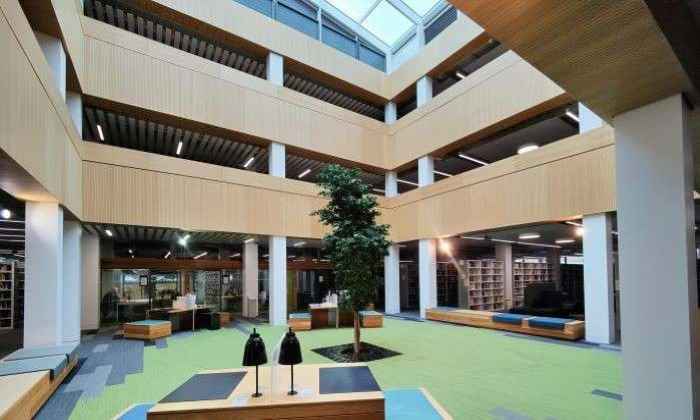 Library Tour
Upon arrival to the library, which was positioned at the heart of the University and campus, we were greeted by Thomas Shaw, Associate Director of Digital Innovation and Open Research at Lancaster University. Thomas kindly led us on a tour of the library building, which had recently undergone a refurb and extension project that completed in Sept 2021. 
The tour displayed a wide range of study spaces and we were certainly impressed by the cohesive look and feel throughout the library. There were living walls full of plants, lots of warm wood across the floors, plenty of natural light, and use of calming colours to create a peaceful, studious, comforting, and inspiring ambience throughout. The dedicated PGR study space, with its 'luxury airport lounge' feel, was also really inviting.  
After the tour, we got stuck into the exciting agenda for the day, which started off with introductions and meeting many of our counterparts from Lancaster University Library.
We then broke into smaller groups to have discussions on the following topics:
Repositories and Open Access (OA) - repository review, preparing for next REF and experience sharing. 
Open Monographs - UKRI Open Monograph mandate.
Digital collections - experience sharing and future plans.
Training and skills delivery- experience sharing and future plans.
Research Data management - Machine Actionable DMPs, Datasets on webpages, code sharing, open source tools and survey approaches.
Some of these discussions have been captured below in more detail.
Open Access (OA) Monographs
Lancaster colleagues were very interested to hear Manchester's plans for implementation of UKRI's new OA monograph policy from Jan 2024. We at Manchester are already at the project brief stage, seeking approval to begin the project, as of September 2022. 
We shared our plans for a data-driven comms campaign informed by the success of the 2022 UKRI policy launch comms. This will include targeted emails to affected researchers, and leveraging hybrid working tech and culture to maximise reach of consistent messaging through recorded presentations and online drop-in clinics. 
We also shared our plans to include exploration of the possibility and associated financial exposure for seeking an institutional requirement for all monographs to be made OA.
We discussed the particular challenges of this policy and associated project, including lack of maturity of publisher workflows when it comes to OA for monographs compared to journal articles; and the possibility of the most-affected authors having less experience and confidence with OA up to this point.
Open Access workflows 
Both of our institutions use Pure as our CRIS (Current Research Information System). The different scales at which we work is reflected in the resource allocations and workflows associated with Pure-related work, and it was interesting to compare the benefits and challenges of having a large support team (spread across the Library and central PS), and having a single dedicated role to support this system.  
When discussing the current project to launch the new Pure portal at Manchester, it was interesting to compare our different approaches to managing efficiency and risk when it comes to validating records for public display on Pure. Manchester is moving to a position where outputs will become visible immediately that they're added to Pure, with records subsequently checked and validated by Library colleagues to ensure accuracy, to speed up Pure processes, reduce Library workload and author frustration at delays to outputs becoming visible via the portal. Lancaster expressed wariness at the risk of inaccurate information being visible, and a preference to retain the current 'validate first, publish later' workflow. 
At the time of our visit, Lancaster was about to begin the tender process for an OA management system, with a strong interest in the tool ChronosHub. Manchester colleagues were very interested to hear Lancaster's views on this tool (and competitors), as we're currently considering a number of these platforms to determine which, if any, are best-suited to improve our OA workflow management. ChronosHub's journal checker/journal finding tool was noted as a particularly attractive feature, given the complexity of determining which journals are covered by publisher Transformative Agreements; associated author confusion and required Library support; and the continuing delays to the Jisc-driven development of a reliable tool for this purpose. 
Research Engagement Spaces
After Lunch, Elaine Sykes (Head of Open Research) and Tom Morley (Open Research officer) from Lancaster University gave a presentation on their new Research Engagement spaces, which consist of the Digital Scholarship and Open Research Labs. They are flexible spaces, that had also been equipped for hybrid sessions, and can facilitate a range of workshops and events, although they are not intended to be teaching spaces. 
Future Roadmaps Roundtable Discussion: Current and future projects and plans 
The day rounded off with discussions on current and future project plans from both sides, some of which included:
Shared experiences of working on initiatives such as Manchester Digital Collections (MDC) and Lancaster Digital Collections (LDC).
Relationships with their own IT Services department, and how the rapidly changing IT architectural landscape can prove to have its own challenges.
Raising the profile of the Library across the University.
Follow-ups
There was also plenty of follow up activity generated, from these discussions including:
the need to include Lancaster in the regular Manchester Digital Collections/Cambridge Digital University Library metadata discussions between Manchester and Cambridge. This is happening now as Lancaster were invited to the most recent meeting;
how the next MDC/LDC developer forum event should be a whole day event in person, instead of just an hour online. We will suggest this to the Cambridge team;
holding a joint Library Carpentry event soon at Lancaster University Library;
planning a session for Lancaster University Colleagues to come visit us at UoM Library in the Spring; 
working with Lancaster's Head of Open Research, to arrange a follow-up, online discussion for Lancaster and Manchester's Open Access teams, to facilitate further knowledge sharing and discussion of:
Manchester's Pure-based workflows including our in-house OA Gateway form;
Manchester's OA monographs project plans;
Lancaster's thinking on ChronosHub and competitor platforms.
This directorate team visit to Lancaster University Library, was one of the first times many of us had come together in person for an external event since lockdown had ended, and I think we all agreed, we had certainly missed it.  There was precious knowledge being shared not only in the formal discussions, but also in the chats happening over lunch, and the value in networking with others was seen as one of the main highlights from this event. 
It was great to reprise our networking skills and we walked away at the end of the day with a great buzz, and excitement to get back on campus and share our experience with our teams. 
More photographs of the visit are on the Library All Staff Teams area.