One in Two: A Manchester Cancer Research Podcast 
23 Sep 2022
Our Cancer research beacon celebrates the impactful work of our researchers with a new podcast, launched today (Friday, 23 September)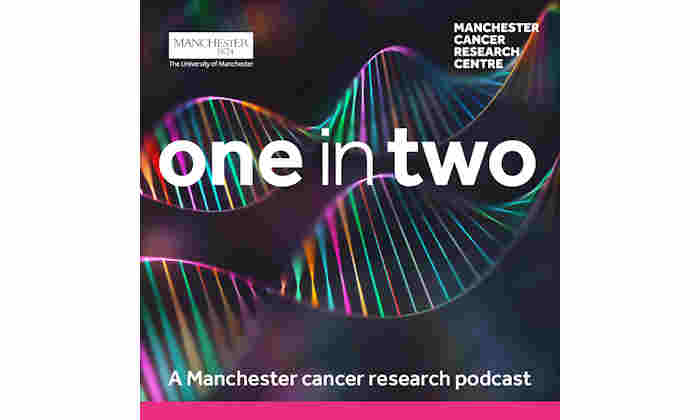 With one in two of us receiving a cancer diagnosis at some point during our lives, it has never been more important to improve the outcomes for people affected by cancer. 
To celebrate the impactful work of our cancer researchers, our Cancer research beacon is launching a new podcast: "One in Two: A Manchester Cancer Research Podcast".
With seven episodes releasing over the next seven weeks, we dive into the discoveries that are shaping the cancer research landscape and how these contributions are changing lives and global understanding of the disease.
This collection of episodes explores our expertise in cancer early detection, highlighting the breadth of research within our Manchester ecosystem. We speak with academics from across our research community, showcasing a selection of projects which, in collaboration with engineering, bioinformatics, health economics, policy and health inequalities, are providing critical insights that are improving earlier detection methods, at both a patient or laboratory level.
The first episode, 'Health inequalities: does going to communities directly improve screening uptake?' is launched on today (Friday, 23 September) ahead of World Cancer Research Day (Saturday, 24 September) and spotlights the work of Professors Emma Crosbie and Phil Crosbie. Focusing on their new joint project that marries their respective expertise in lung and gynaecological cancers, Phil and Emma discuss some of the challenges around lung and cervical cancer screening, how community engagement can improve screening uptake in socio-economically deprived areas, and how research from Manchester has led to a national revolution in delivering lung screening.
Professor Robert Bristow, our University's Professor of Cancer Studies and Director of the Manchester Cancer Research Centre said: "I'm excited to see our new podcast launch, enabling us to share our Manchester stories of discoveries and innovations that are contributing to increasing global survivorship.
"The series gives our researchers a new platform to tell their stories, in their own words, about breakthrough moments, and discoveries as well as the difficult questions they're having to ask and answer on their research journeys. We get to meet the incredible people behind the research and outside the lab, letting us connect with them and their work like never before."
Episode 2 launches on Monday, 3 October and will focus on the question, 'Breast Cancer: Should all women be screened equally?' It spotlights the work of Professor Gareth Evans as he talks about the risk factors that affect breast cancer screening.
A new episode will then be launched each Monday with topics including health economics, alternative screening for people with a cervix, modelling cancer outside of the body, and using nanoparticles for detecting biomarkers.
The series has been produced in partnership with the Manchester Cancer Research Centre (MCRC).   
You can stream the first episode at: 
Cancer is one of the University's five research beacons are examples of pioneering discoveries, interdisciplinary collaboration and cross-sector partnerships that are tackling some of the biggest questions facing the planet. You can read more about our work at: