Dean's Update
01 Feb 2019
Message from Graham Lord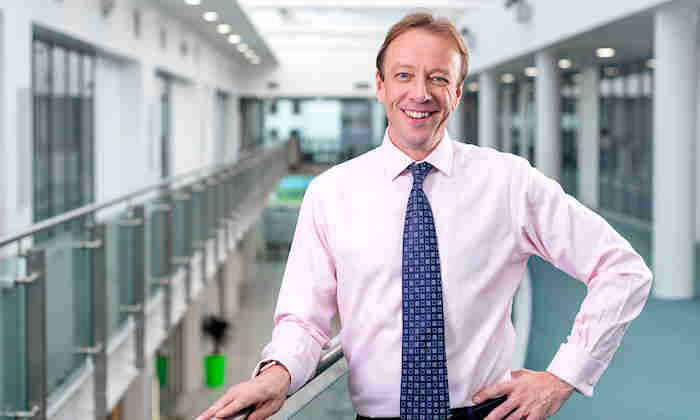 Dear colleagues 
I am delighted to be in Manchester at last and looking forward to meeting you and working with you as the new Dean of the Faculty of Biology, Medicine and Health. 
Becoming the Dean in a Faculty that's the size of a university, within one of the UK's largest universities is a huge privilege for me. I know that we can make an impact in science, education and clinical translation at scale, and it is very exciting to be a part of that.  Manchester is an extraordinary university and our Faculty sits at the heart of the university's interface with the wider health service and the Greater Manchester area.  I strongly believe that working together we have the opportunity to make a difference to the lives of people in our region, and further afield. 
I have a deep commitment to this city. I grew up here and my mum and dad still live down the road. My dad was a cancer biologist at the Paterson, so I grew up as a young kid wandering around the corridors of that building. My mum was a renal pathology technician at the Royal Manchester Children's Hospital when it was at Pendlebury, and my sister is an oncologist at Clatterbridge.  This is a fantastic university and an incredible Faculty. The people, scale and devolved healthcare system provide us with a unique opportunity. Manchester is now at an inflexion point where it can really punch above its weight. I'm eager to join you in contributing to the journey ahead where we can drive our research and our teaching into a space that has real impact in multiple ways.  
I'm a clinical academic, a transplant nephrologist with a focus on renal, pancreatic and islet transplantation. Fundamental immunology and how it applies to human disease - be that in transplantation, autoimmunity or cancer immunology - has always been at the heart of my work. I passionately believe in the importance of basic discovery science and widening understanding of the mechanisms of disease, so that there can be rapid translation of that learning into new treatments for the benefit of patients. That's one of the things that's exciting about coming here, not only in being in this important leadership role, but also transitioning my lab up here. I see the opportunities for research to influence practice at pace in Manchester as unique. 
As a leader I am most looking forward to talking with all of you and hearing your views about how we can continually improve our offering, the relevance and quality of our science, and our student experience - preparing them for life after university. I am enthusiastic to get everyone's ideas so that we can put together a new FBMH strategy for the next 10 years. 
There are a number of components to the student experience. One of our primary roles is in education and it is absolutely vital that our students are taught by world leading researchers and that our students are able to see the research and practice in real time, so they have both a taught experience and see world class research in action. It's also important that our students have transferable skills so that they can thrive once they go beyond the walls of the university. The city of Manchester is a great place to live and fundamental to our student experience is creating a positive and life-enhancing environment for our students. My vision is that our students and graduates will also contribute to the success of the city too - if we can achieve all of this, we will have done our job well.   
My priority coming into the Faculty is to build on the success of my predecessors. Excellence in fundamental and translational science is absolutely key. We need to identify where our existing and under-developed areas of strength are and provide support to build functional alliances between discovery science and clinical medicine. We need to show how research can positively impact on the health of the people in Greater Manchester and beyond - and then translate that into real outcomes. Cross-Faculty alliances are also very important and we have much to learn from our colleagues in Humanities and Science & Engineering. 
I hope you will join me in thinking about how we can focus on our strengths and define our strategic priorities - and then plan how we integrate what we do in our Faculty with the other two Faculties in the University.  None of this will change the fundamentals of what we do, but I hope it will open up new opportunities for constructive conversations. 
I certainly don't know all the answers, or indeed all the questions at this point.  But I'm a strong believer in the power of team working.  Let's talk about the issues, find the solutions and once we've made the decisions, get on with delivery.  I'm looking forward to consulting with colleagues on the 10-year strategy that we need.  I have some thoughts about where some of the opportunities might be and look forward to hearing your thoughts too as we focus on getting the decisions for the Faculty right, exploring new opportunities and working hard to set our future strategy and direction. 
I'd like to take this opportunity to announce my first appointment in my role as Dean. I'm delighted to let you know that Peter Clayton is to become Deputy Dean for the Faculty.
This new role will be a great support to me, and by leading on specific projects and initiatives - including managing our relationships with external stakeholders relating to the NHS such as Health Innovation Manchester, the Northern Health Science Alliance, North-West e-Health, and other professional bodies and funding organisations – this will help me to focus on being very visible and engaged as the leader of the Faculty. 
As you'll know, Peter has been interim Dean for the last six months and was formerly the Head of the School of Medical Sciences. An alum of the University, Peter has worked here for 25 years. He is Professor of Child Health and Paediatric Endocrinology and an honorary consultant at both the Royal Manchester Children's Hospital and The Christie Hospital. I'd also like to thank Tony Heagerty for agreeing to continue in his post as interim Head of the School of Medical Sciences. 
I'm looking forward to working with you all and to meeting as many of you as I am able in the coming weeks and months. Your thoughts and ideas are important to me and the wider university and you are welcome to contact me anytime at graham.lord@manchester.ac.uk.
All the best, Graham
Professor Graham Lord
Vice-President and Dean of FBMH