Dean and Director of Operations' update
21 Dec 2018
Christmas message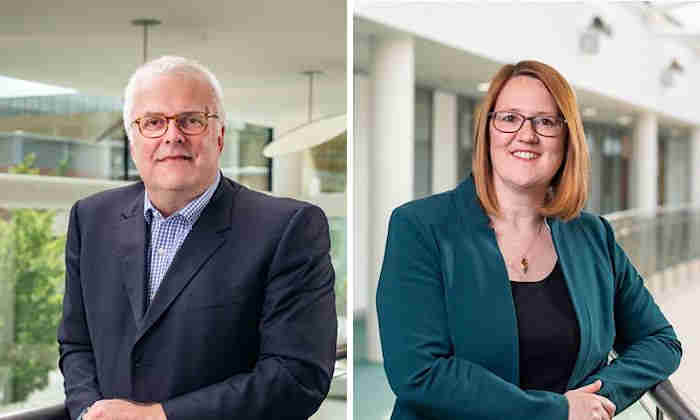 As we approach the end of the calendar year, the Faculty has been as busy as ever. Graduations are always a celebratory time for students and their families and last week's winter ceremonies were no exception. The Faculty Leadership Team would like to extend its thanks to all colleagues in our Faculty who play such key roles in the education of our graduates.
We have also just been through a further round of recruitment for our Presidential Fellows scheme. There has been significant interest in this scheme in FBMH. We interviewed 21 candidates over two days: 15 in basic sciences and applied health, and 6 for clinical fellowships. The candidates were excellent, and we have offered 8 fellowships in basic science and applied health research and 4 clinical fellowships. The areas of research include health economics, developmental biology including cell matrix, evolutionary biochemistry, neurodevelopment and immunology, data sciences, precision medicine, pharmacoepidemiology, endocrine sciences and cellular developmental systems, cardiovascular sciences related to sport, and cancer sciences.
We're also interested to hear the new research from our Alliance Manchester Business School, which suggests that it is too soon to tell whether health and social care devolution will have the promised impact. As you will know, Greater Manchester has some of the worst health outcomes in the country and our Faculty is committed to using the benefits of collaboration with the NHS, Health Innovation Manchester (HInM), and other partners to contribute to enhancing the health and social care system for the better.
We are already capitalising on the opportunities created by devolution by turning health data into an asset for both economic and social benefit. Our research strengths have positioned Greater Manchester in the leading group for the Ageing Society grand challenge as part of the Government's Industrial Strategy.
More evidence of positive collaboration comes with the opening of our pioneering Proton Beam research facility at The Christie. The UK's first NHS high-energy proton beam therapy centre has been designed to include a research room so that research can be carried out alongside treatment. Patients will benefit from having the service available here in Manchester from next month and this is an excellent example of how we can innovatively bring together UK scientists, researchers, funders, generous donors and the NHS to develop cutting edge medicine and services that will transform healthcare in the region and beyond.
In another notable collaboration, last week saw the launch of a new mental health partnership between the four Greater Manchester universities and the GM Health and Social Care Partnership. This approach, believed to be the first of its kind in the UK, will provide a dedicated, fast track mental health service for students and will begin next September. The service will make it easier to get referred, regardless of where someone studies or lives and that young people are supported with the transition to university.
The recent award of an NHS England Genomics Laboratory (one of seven laboratories across the Country) to the North West Genomics Partnership, hosted by Manchester University NHS Foundation Trust, is a further opportunity for academic colleagues to link with industry partners on research and development programmes for new genomic tests. This will in turn create career development opportunities for staff and contribute to the regional economy, as well as improving health outcomes. In addition, the North West Genomics Partnership has been successful in bidding to provide eight specialist testing categories which are: Cardiology, Haematology, Hearing, Immunology, Metabolic, Neurology, Ophthalmology, Inherited cancer* (*awarded in conjunction with the North East).
Looking ahead to 2019, the incoming Dean, Professor Graham Lord, will be bringing a wealth of experience around National Institute for Health Research (NIHR) and Biomedical Research Centre (BRC) activities which will be very important as we develop our priority research areas, our plans for BRC 2022, and our cross-Faculty and Health Innovation Manchester projects.
We are also delighted to be welcoming Judith Hoyland to the Faculty Leadership Team in the New Year following her successful appointment to the Head of the School of Biological Sciences. Judith will be building on the great foundations set by Jane Worthington over the past few years and we wish Jane all the very best for her well-earned retirement early in the New Year.
We have continued to commit to our Dean/DoFO walkabouts and we are really enjoying the opportunity to spend time talking with staff from across the Faculty. Meeting staff in their local setting and seeing their work first-hand provides a rich and valuable context to the breadth of work undertaken in the Faculty. It is also an opportunity to thank staff personally for all their hard work and dedication. This month we have been to the Wolfson Molecular Imaging Centre, the Manchester Cancer Research Centre, the Williamson Building and the Ellen Wilkinson Building.
On behalf of the whole Faculty Leadership Team we would like to thank all of you for your hard work and commitment over the last 12 months and wish you an enjoyable time over the festive season! We look forward to meeting more of you in 2019.
Professor Peter Clayton Vice-President and Dean (interim)
Joanne Clague Director of Faculty Operations