Dean's update
07 Dec 2018
Message from Peter Clayton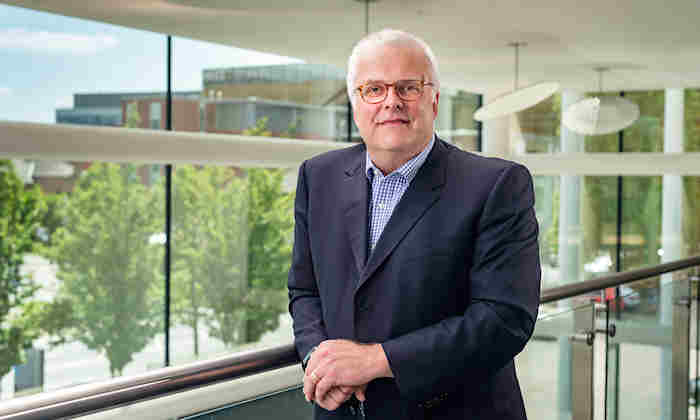 I'm delighted that the Women in BMH network was reinvigorated yesterday as part of the Faculty's excellent Athena Swan action plan. Women are well represented in Professional Services senior roles, but the same cannot be said for female academics who are generally significantly under-represented in senior positions. In the School of Biological Sciences, the data reveal that 31% of professors are women; in the School of Health Sciences it is 37%; and in the School of Medical Sciences this percentage is only 25%.   There is clearly a significant way to go and our commitment to the principles of Athena Swan will help to improve the representation and progression of women in FBMH.
Meanwhile, our Centre for Global Women's Health has been singled out for a commendation by Times Higher Education for demonstrating real impact in improving the health of women and babies in low and middle-income countries through its six-year collaboration in six sub-Saharan nations - Kenya, Malawi, Tanzania, Uganda, Zambia and Zimbabwe.  Led by our inspirational colleague Professor Dame Tina Lavender, the collaboration is improving and increasing midwifery research and strengthening evidence-based practice resulting in better maternity care and positive outcomes for women and babies in countries where midwifery research is in its infancy.
I am very proud to be leading a Faculty with such an outstanding commitment to Social Responsibility principles in public engagement and patient involvement. It was great to learn last Friday that the University has been awarded a Gold Watermark for the effectiveness of the ways in which it works to engage society with our activities in research, culture and teaching. Awarded by the National Coordinating Centre for Public Engagement, the watermark recognises our strategic support for public engagement. The work that our staff do in this area truly makes a difference to the way we develop our research programmes and treat our patients – from the bench to the bedside. The panel were impressed with our wonderful Public Contributors who were interviewed as part of the assessment process as well as the support that the Faculty provides for high-quality meaningful engagement and involvement.
Elsewhere, our cancer research building (on the Christie hospital site) has been renamed as the Oglesby Cancer Research Building, in honour of one of the University's most generous donors and great friends, Michael Oglesby, his family and the Oglesby Charitable Trust. Michael, who is an honorary graduate of the University, has chaired the Manchester Cancer Research Centre steering board for 12 years and has played a significant role in the growth of cancer research in the North West. As Michael said at a small ceremony a few days ago: 'It makes a statement to the rest of the world about Manchester's success and ambition in cancer research. But most importantly it tells patients that their treatment has cutting edge science behind it, which in turn gives them hope, and that is priceless.'
While mentioning cancer research, I hope you will look out for the Faculty's new Cancer Futures magazine in January – the interviews with some of our leading scientists demonstrate how real our ambition is to become one of the world's top five centres for basic, translational, and clinical cancer research.
It must be awards season - our Connected Health Cities programme has just been named Healthcare Project of the Year at the 2018 Bionow Awards. The award recognises CHC's innovative use of technology and NHS data in creating and embedding learning health systems across 19 North of England care pathway projects.  CHC is using data to understand and analyse how patients move through and across their local health and social care services, providing big picture insights that were previously unavailable to NHS decision-makers.  This work is enabling the design of more streamlined and efficient services, optimising care for the benefit of patients.  The Faculty is leading this work on behalf of the Northern Health Science Alliance representing eight universities, 10 NHS Trusts and Academic Health Science Networks.
Finally, I've just returned from a meeting of the Medical Schools Council which is the authoritative voice of UK medical schools. As we host the largest medical school in the UK, it's obviously important for us to attend what is essentially a highly influential body able to shape and influence strategy and initiatives at the UK level while preserving the autonomy of individual medical schools. Two issues of particular note included training of overseas medical students and how this will be funded, once restrictions on the number of students per school is lifted, and the introduction by the General Medical Council of a national 'Finals' exam. Discussions were also dominated by the impact of Brexit on medical under- and postgraduate training.
Professor Peter Clayton
Vice-President and Dean (Interim)