Registrars reunite for reunion
07 Jul 2022
Four former registrars joined Patrick Hackett for a special lunch this week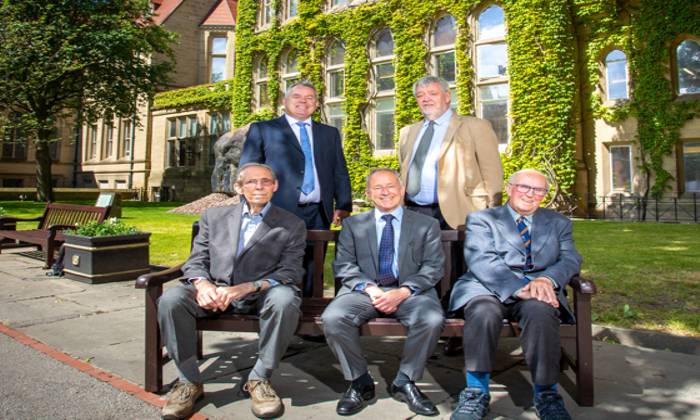 "Keep your eyes on the office filing cabinets to see which one of them explodes today!"
These were among the words of advice from working days of yore given by four former registrars of UMIST, The Victoria University of Manchester (VUM), and our modern University as they gathered for a special lunch this week with Patrick Hackett, our current Registrar, Secretary and Chief Operating Officer (RSCOO).
Ranging from 87 years old to 62, Ken Kitchen (VUM, 1979-1994), Paddy Stephenson (UMIST, 1986-2000), Jon Baldwin (UMIST, 2000-2004) and Will Spinks (UoM, 2011-2018) visited campus to swap memories, share experiences and see how our University has developed since their times in office. Three are retired now, though Jon Baldwin continues to work in the private sector.
Subjects in discussion covered the past, such as the merger of UMIST and VUM which formed our University in 2004, and more recent changes including virtual meetings and hybrid working. Patrick was able to point out some of the ways the campus has changed over the years and the group talked about the ways in which the job has adapted to keep up.
Patrick said, "There's never a dull day in this role and I certainly gained the impression that it's always been that way! These former colleagues have covered more than 40 years of the life of three universities. Their work and those they worked with have shaped the community we live in today."
Some aspects of the job, it emerged over lunch, have been common to all, although none present could match the anecdote of one attendee, who, decades earlier, had found himself rugby tackling his then Vice-Chancellor to prevent the V-C from chasing after a student ringleader of an ongoing occupation!
Patrick added, "This was a really enjoyable event and I'm hoping we can make it a regular one, including with some of those former registrars who weren't able to attend today.
"My thanks go to those colleagues who helped to organise it."
Back row: Patrick Hackett, Will Spinks
Front row: Paddy Stephenson, Jon Baldwin, Ken Kitchen