Have an out-of-this-world Pride month at the University
14 Aug 2019
Throughout August the University will be joining the city of Manchester in celebrating Pride. Find out how you can get involved!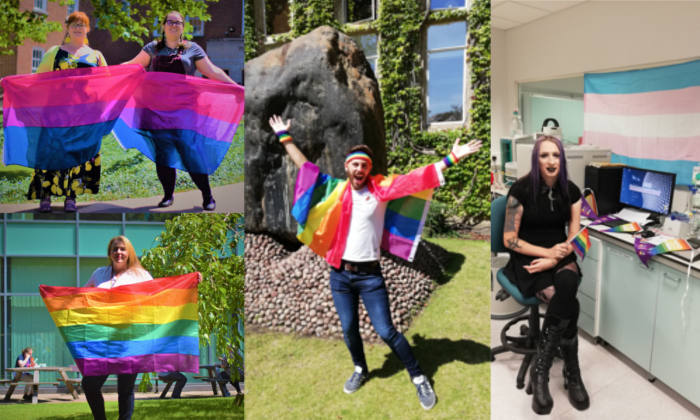 Pride month has hit Manchester and on Saturday 24 August the University will be joining the celebrations in the Manchester Pride Parade.
There are many ways you can take part in the Pride fun this month, even if you can't join walking in the parade on 24 August. From picking up a slice of rainbow cake at selected Food on Campus outlets, to getting involved in our #showyourpride social media campaign - this year the Pride celebrations are bigger than ever!
Rainbow cake and rainbow cupcakes will available throughout August, you can find yourself some treats in;
Lime Café – Samuel Alexander building
Café at the Learning Commons – Alan Gilbert Learning Commons
Café at the Library Lounge – Main Library
Greehouse Café – George Kenyon building
Atrium Café – Jean McFarlane building
Café Paris – Pariser building
Code – Alan Turing building
Byte Café – Kilburn building
On Wednesday, 21 August, the Pride Committee will be hosting their annual 'Construction Evening', where they will be putting together the finishing touches to the Pride float before the parade! If you are interested in joining in and taking part the event will take place from 5pm in H12/H14 in the Sackville Street Building.
On Thursday, 22 August the Manchester Museum will be hosting an event that promises to be the most Gorgeous of all! To celebrate pride, the museum will be hosting an afternoon of drag cabaret, curated and produced by Manchester-based drag queens (and recent TV stars), the Family Gorgeous! Throughout the afternoon the Family Gorgeous and friends will be reinterpreting the Museum's Natural History collection through a queer eye, in a series of performances and conversations. Performance times are 1pm, 2pm and 3pm and more information can be found on Facebook.
All this will lead up to the Pride Parade on Saturday 24, August. This year's theme is 'Deep Space Pride' and there is still space for University staff and students to join the entry! All you need to do is follow this link to SurveyMonkey and provide three pieces of information. With that simple process you are all signed up for your place and your T-shirt! Please note that T-shirts and spaces in the parade are provided on a first come first served basis.
Don't forget to show how you are celebrating and supporting pride by taking part in the #showyourpride campaign that is running on the UOMLGBT Twitter page. Please share your content, whether it is bunting in offices or University buildings, donning a rainbow pin badge or wearing rainbow socks – we want our see our staff, students, alumni and campus brimming with pride this August! Please include the #UoMPride #ManchesterPride and tag @UOMLGBT to make sure your content is featured!
Set your phasers to stunning and get ready for an out-of-this-world Pride month at The University of Manchester! Any queries can be directed to heather.devine@manchester.ac.uk.