How will you measure up to slime mould?
09 Apr 2015
Children and adults alike will get a chance to check out slime mould and pitch themselves against the curious creatures that form the substance at the Life Sciences Community Open Day on 9 May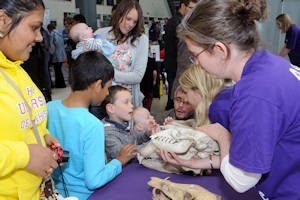 There will be the chance to get hands on with slime, using petri dishes, samples and pipettes and look at findings using our microscopes.
This rare opportunity to see behind the scenes and visit our cutting edge laboratories will take place on Saturday 9th May. Visitors will be able to see where research to tackle some of the world's greatest challenges is carried out and speak to our world class scientists.
One of the tours includes our Fly Facility. Visitors will get the chance to understand how the humble fruit fly is opening up our understanding of a range of conditions and behaviours, such as aggression and motivation.
There will also be plenty of hands on activities. From creepy crawlies to baby fish, microbes to animal-eating plants there are lots of fantastic things to see and do. Visitors will also find themselves getting up close and personal to an array of insects and amphibians on the day.
Younger visitors to the University will be encouraged to take part in painting with maggots which is an unusual and hands-on activity combining art and science – the live maggots are dipped in non-toxic paint and allowed to crawl around the paper to create unique and colourful paintings.  There will also be the opportunity to get messy with craft activities and have your face painted by a professional, rather than a maggot!
Organiser Natalie Liddle said: "This year we have gone all out to make the event our most spectacular yet, with the chance to see our robots in action, science buskers and Mad Science Workshops, it's going to be a day not to miss."
The Open Day takes place on Saturday, 9 May from 10am to 2pm in the Michael Smith Building, off Dover Street. Everyone is welcome to this free event and there is no need to book. Free parking is available on site.