A model world goes on show in Humanities Bridgeford Street
18 Sep 2014
On Friday, 12 September, staff, students and alumni from the Manchester School of Architecture were welcomed to the opening of a new exhibition on campus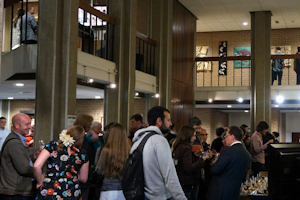 B15:45 celebrates 45 years of the models created in the architecture model workshop in the Humanities Bridgeford Street building and showcases decades of work by former students.
Guests were invited to enjoy food, drink and the company of former classmates and lecturers at the evening, which saw the culmination of efforts from the Architecture workshop technicians, Jim Backhouse and Scott Miller, to exhibit the models. Scott - who joined the School of Environment, Education and Development in 2013 – was tasked with archiving the model collection which had before been gathering dust in a storeroom. He recognised the remarkable academic and aesthetic value of the models, as well as the huge effort that had gone into producing them and the idea for a celebratory exhibition was born.
This was reflected in a speech by Nick Dunn (alumnus and former staff member, currently Professor of Urban Design at ImaginationLancaster and Associate Director of Research of the Lancaster Institute for the Contemporary Arts at Lancaster University) at the opening evening, when he stressed the educational significance of the models as a tool for better understanding the history of architecture.
The resulting exhibition acknowledges these qualities, and creates a narrative through the various themes displayed, which ranges from large scale and prototype models to master plans, from historical models to models of The University's own current buildings.
A documentary video was also produced alongside the collection, which includes contributions from current as well as previous staff and students and emphasizes the contemporary importance of creating physical models despite the advances in digital modelling.
The exhibition is located on the 1st floor of Humanities Bridgeford Street. It is free and open to visitors between 9am and 5pm, Monday to Friday.