Library Customer Services' Instagram Takeover
13 Dec 2022
Library Customer Services have collaborated with the central social media team to host an Ask Me Anything (AMA) session via the @OfficialUoM Instagram account.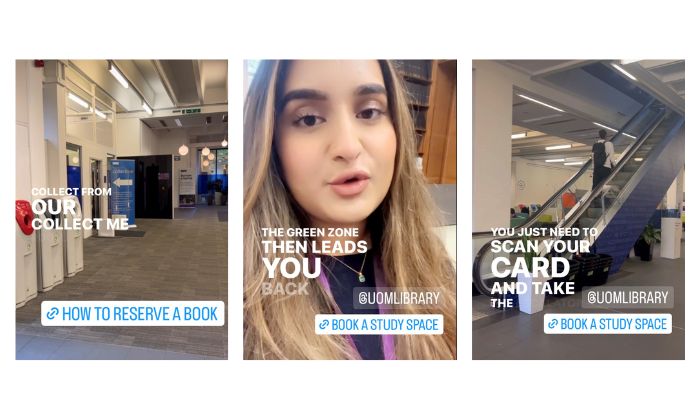 At the beginning of the academic year we know both new and returning students will have many questions for us at the Library, while they find their feet and prepare for the new semester.
Customer Services saw an opportunity to collaborate with the OfficialUoM team to host a day long AMA via Instagram Stories, inviting questions from their more than 95,000 followers.
What we did
The team prepared a video introducing themselves and inviting questions, and at 10am the Digital Communications team logged into the account to begin the takeover.
Over the course of the day we received more than 60 questions, with most coming in within the first hour. While Digital Comms pulled together the questions into a spreadsheet, Customer Services got to work on sorting which were well suited to video response, which could be answered publicly using photos, and which could be directly messaged in response.
They recorded videos in Main Library, including a full guided tour through Red, Green and Blue, answering everything from how not to get lost, how alumni can access our services and what to do if you've forgotten your Library card. All videos were shared with Digital Comms, and we uploaded them to Instagram Stories, adding links to useful web pages and subtitles.
The impact
In total, 7766 Instagram accounts viewed our first story, with 3696 watching every story that we shared.
The links to web pages including the Rylands, opening hours, our study sites and other services like borrow a laptop, attracted 893 clicks. This is a strong number and demonstrates that even though some users did not watch our responses in full, there was a very high degree of engagement with what we were sharing.
On the day of the takeover we attracted 40 new followers to our @UoMLibrary account.
This demonstrates the value in working with our colleagues across the University to promote all the great services and resources the Library offers, to not only students, but alumni, researchers and the public too.
You can view a reel of the videos created by the team on the day.