Being Human Festival 2022
24 Oct 2022
Being Human is the UK's national festival of the humanities. It celebrates how the humanities enrich our everyday lives and help us understand a changing world.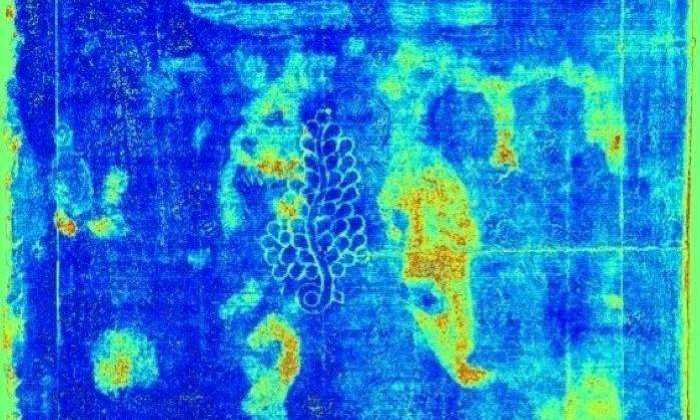 Page from an early printed book analysed through multispectral imaging.
Image reproduced with the permission of The John Rylands University Librarian and Director of the University of Manchester Library.
Saturday, 12 November, 10am – 4pm
John Rylands Research Institute and Library
A day of interactive activities that spotlights the work taking place behind the shelves at the Rylands. 
Discover the hidden life of the library and learn about the work of the staff most visitors never see. Expect a pop-up imaging lab, printing demonstrations, a collections encounter, and a tour of our new exhibition, Transitions in Print. 
Free entry. Booking required only for the Transitions in Print tour (11am or 1pm).
Thursday, 17 November, 6.30pm – 8.30pm 
A conversation with Prof Andrew Doig and Archaeologist Dr Melanie Giles, chaired by Prof Carsten Timmermann. 
Bringing together humanities, sciences and museum collections, this event will explore mortality and breakthroughs in understanding death, from prehistory to the 21st Century. A pop-up exhibition from the Museum of Medicine and Health will also reveal public health histories from Manchester's industrial past.
Free entry. Book your place.
Saturday, 19 November, 10am – 4pm 
John Rylands Research Institute and Library
An opportunity for people of all ages to explore oral histories – and create their own! 
Meet our curators and discover items from the University of Manchester Library Special Collections, book your place on Making History Together: Oral History Workshop to create your own family oral histories and explore personal stories about the NHS over the last seven decades through the Voices of Our Archive pop-up exhibition and the short film A Moment in Time.
Free entry. Booking required only for Making History Together: Oral History Workshop (1-2pm)
Find out more about Being Human events happening across the University