Collection Care receives National Manuscripts Conservation Trust funding
12 Jul 2022
Library teams will collaborate to conserve and reframe Demotic Papyrus 9.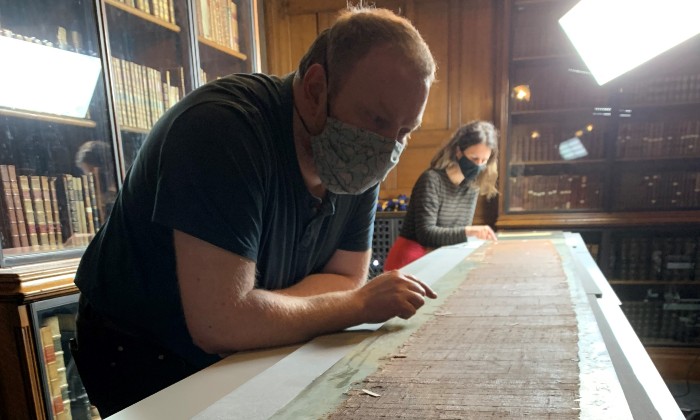 Collection Care is delighted to announce the award of a £10k grant from the National Manuscripts Conservation Trust, to support the conservation and reframing of Demotic Papyrus 9.
Demotic Papyrus 9, the Petition of Peteêsi, dates from the reign of Darius I (c.513BCE) and is one of the most important documents in the world for the study of Late Period Egypt. Unfortunately, in the 1960s the papyri was severely damaged by the liberal application of oleic and linoleic acid, and its glass frame was subsequently broken. Since 2003 the papyrus had been stored in a wooden crate and it was unavailable to researchers.
This project will involve not only Collection Care, but also several other teams in the Library. Toluwanimi Ajayi, a PhD student from the School of Mechanical, Aerospace and Civil Engineering, will also work on the project to analyse the results of the new treatment devised by Collection Care. Dr Marina Escolano-Poveda, Papyrologist and Lecturer in Egyptology, will align all the loose papyri fragments, and an external accredited frame conservator, Claire Ridley, will treat the original 1890s frame. Hopefully, you'll be able to see Demotic 9 displayed in the Education Room in the Rylands early next year.
The project would have not been possible without the collaboration of the following teams: Imaging, for all the photography and multispectral imaging; John Hodgson and Elizabeth Gow, for their support on the project and its application; and Dr Christopher Muryin, Head of Research Infrastructure and Facilities, who facilitated the collaboration with Dr Ilya Strashnov, of the Department of Chemistry, whose analysis of enzyme samples helped to refine the proposed treatment methodology.
Elisabeth Carr, Collection Care.