Virtual Reading Room: Special Collections introduces online reader appointments
18 Aug 2020
The Reader Services team at The John Rylands Library can now offer researchers a 'virtual visit' by creatively using digital technology to beam documents and books to homes across the world from India to Australia to London.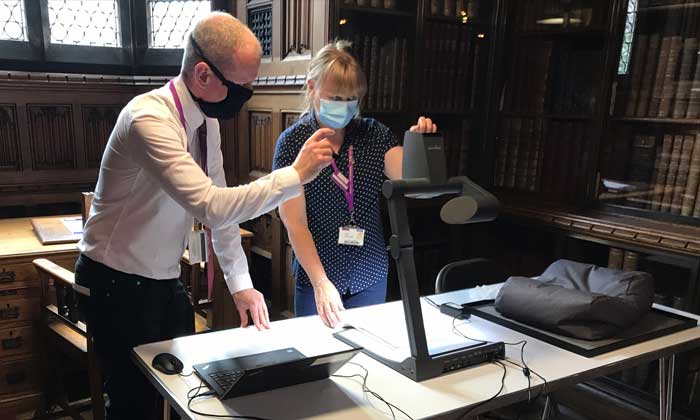 The concept is a simple one. We use a visualiser alongside a Zoom call (for the older generation, a visualiser is basically a whizzier digital version of the much mourned overhead projector). These visualisers offer real-time image capture of an object and can be linked to a laptop (as above). A series of documents can be placed under the visualiser, sent to the laptop in real time and the images shared with the researcher via a Zoom call. The Reader Service Assistant shares their screen and talks to the researcher via the Zoom call and is instructed when to turn the page and when to pause.  
Our visualiser was originally used in a classroom setting to show groups of students zoomed in detail from a book or manuscript but in the post Covid-19 world they have come into their own as a simple and effective way of showing material via Zoom to a remote reader. At present we are limited to straightforward requests and it works best for flat, standard size objects. But we are exploring how we could extend to maps, tightly bound books and oversized non-conventional materials. 
Since the end of July 2020 we have delivered six appointments and we hope in future to extend the service to the Special Collections at the Main Library.  
Feedback so far has been glowing: 
"Thank you so much for doing this - it is a great kindness on your part and on the part of the UML, to be so flexible about helping overseas researchers like me during these uncertain times. I am very grateful and deeply appreciative." 
"Thank you very much for your help! It's much appreciated, what a great service." 
Special thanks goes to photographer Jamie Robinson (Imaging), Dom Marsh (Reader Services) and Chris Higson (Media Services) for their expert advice and for testing the kit prior to going live. Thanks also to the rest of the Reader Services Team for embracing these new way of working with enthusiasm and verve.  
It feels ground breaking indeed to offer remote digital access to our world-class Special Collections during the pandemic. I am confident that this innovative and exciting service is here to stay - even when normal life resumes.
Dr Janette Martin, Reader Engagement Manager