Hero reaches halfway stage at University
21 Jun 2012
Phil Packer MBE marked the halfway point of an epic 2,012-mile walk around Great Britain by completing a four-mile circuit of the University campus this afternoon, joined by staff and students.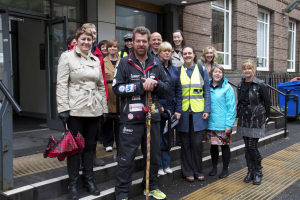 Phil, who was told he might never walk again due to a spinal injury, was welcomed by the President and Vice-Chancellor Prof Dame Nancy Rothwell before heading out into the Manchester rain.
Phil's charity, the British Inspiration Trust (BRIT), aims to raise £15m to build the BRIT Centre of Inspiration for young people facing adversity.     

After suffering a severe spinal cord injury serving with Her Majesty's Forces, walking 8-10 miles for Phil is the equivalent of doing a marathon. 

He spoke to staff and students about his epic endeavour and said: "When I left the Armed Forces I knew I wanted to spend time with young people so I founded the BRIT.

"I don't ask the public for any funding. Instead, I am asking 2012 companies to pledge me £5,000 or £10,000 to raise the money we need. 

"This is Day 150 of the BRIT 2012 Challenge, and I wanted to come here because I get to walk with young people and get a feel for what young people want, so thank you very much for having me here."

The walk is Phil's latest monumental challenge: he previously rowed the Channel, walked the London Marathon over 14 days, and hauled himself up El Capitan. After raising £1.3m for the wounded, he became Fundraiser of the Year at the Pride of Britain Awards and was given the Helen Rollason Award at the BBC Sports Personality of the Year.
The BRIT has been able to operate through gifted support due to its minimal overheads and the fact the Phil draws no wage.
He is making his way through every county of England, Northern Ireland, Scotland, and Wales, including Jersey, Guernsey and the Isle of Man, and will finish the challenge in London in December. 
Phil has been selected as an honorary torchbearer for the London Olympics and will be carrying the Olympic Flame on 25 July 2012, the day before the Opening Ceremony, as he continues to inspire people across Britain.