We Face Forward: 2 June - 16 September 2012
11 Jun 2012
Manchester celebrates its links with West Africa as part of the London 2012 cultural festival.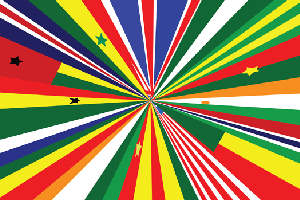 From 2 June to 16 September there will be a number of events at venues around the city as part of the We Face Forward exhibition.
The exhibition, which takes its name from a speech by Kwame Nkrumah, Ghana's first president, serves not just to demonstrate the creativity of West African artists, but also highlights a number of important global concerns both economic and cultural.
The Whitworth Art Gallery will be hosting a number of events for the exhibition, including films and sculptures from Romuald Hazoumè, as well as an exciting new commission entitled The World Falls Apart by Pascale Marthine Tayou consisting of an interior forest filled with masks and sculptures.
The Manchester Museum will also be taking part in the exhibition and has worked alongside the African Caribbean Carers Group and artist Alan Birch to develop new interpretations of the old folklore tales of Anansi the Spider. The Museum will be hosting a variety of family events over the Olympic summer as well as a number of adult only evening events.
For more details on the exhibition, visit:
or alternatively visit the Museum and Whitworth Art Gallery websites for full event listings: