Boat Race bragging rights remain with Manchester
24 May 2012
The University of Manchester has stormed to victory in this year's Two Cities Boat Race, winning five out of the seven races to beat local rivals the University of Salford.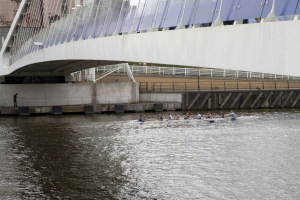 A strong crowd gathered by the finish line, at Salford Quays' Lowry Bridge, to support the rowers as they went head to head in a series of races.  
Katie Haynes, President of Manchester University Boat Club, said: "Some of the races were very close and from where I was stood it was hard to tell who had won! It was quite nerve racking waiting for the results to come in, but I had faith in the team and knew that they had been working hard in preparation for the race!"
Manchester have reigned supreme for a number of years in the boat race and are not yet ready to blemish their untarnished record.  
Katie continued: "There is a lot of pressure on the club to win and maintain our long standing record. Every year Salford come with renewed determination to take our crown and we have to stay focused to make sure that we never let that happen."
Aside from Manchester's magnificent display in the Boat Race, the spectators enjoyed quayside entertainment from local artist and theatre groups as Salford welcomed Games Time to the North West with 'Looping the Loop'.
Katy Young, Sport Development Officer and event volunteer, said: "It was great to join up with the Looping the Loop festival this year, as it brings the sport of rowing to a whole new audience. When you think of rowing, you automatically think of Oxford and Cambridge, but it is a popular sport in the North West and there are some great local clubs."