Delight for staff in New Year's Honours
04 Jan 2016
Four University staff members have been recognised in the Queen's New Year's honours list.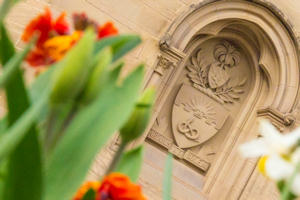 Paul O'Brien, Head of the School of Materials and Professor of Inorganic Materials in the School of Chemistry, received a CBE for services to Science and Engineering.
Professor O'Brien's research centres on developing new chemical processes for thin films and nanoparticles; especially of chalcogenide containing materials. In 2002 he founded Nanoco, an AIM listed company that manufactures nanoparticles. He has published more than 500 scientific papers and edited many books, including a series on nanoscience and technology.
Professor O'Brien said: "I am delighted to receive the award in recognition of the contributions I have made in the public sector, both locally in the North West, nationally – notably in the Royal Society of Chemistry, and also internationally. Being named in the New Year's honours list has a marvellous distinction from purely academic recognition."
Karen Luker, Queen's Nursing Institute Professor of Community Nursing and former Head of the School of Nursing, Midwifery and Social Work, was also awarded a CBE, this time for services to nursing.
Professor Luker's research focuses on the daily experiences of people living with long-term health problems, including cancer where the focus is on issues relating to returning to work and the financial impact of the disease.
Professor Luker also works to identify the elements of district nursing that make a real difference to patients, families and lay carers, who provide the majority of care for people nearing the end of life, and has developed interventions with carers that will assist them in providing quality nursing care to patients at home.
She said: "I was both surprised and delighted to receive this honour. I see it as recognition of the School of Nursing, Midwifery and Social Work, and the hard work of all the staff."
Terry Priest received an MBE for his work in the University's Faculty of Life Sciences. Terry has worked at the University for the past 41 years.
He said: "This award is recognition of the best practice encouraged by the University and carried out by my technical support staff."
Dr Amy Hughes, clinical lecturer in emergency humanitarian response at the Humanitarian and Conflict Response Institute was awarded an MBE for services to humanitarian and emergency medicine.
Dr Hughes is a trainee specialist in emergency medicine and was presented with the Points of Light award by Prime Minsiter, David Cameron, in January last year following deployment to Sierra Leone where she led the first wave of NHS volunteers as part of the UK's response to Ebola. She also works with UK-Med, the University-based charity which manages the UK deployment register to disaster zones.