Do you know our procedures for dealing with young visitors?
22 Sep 2015
Updated Safeguarding Children Policy also includes health and safety procedures for parents bringing their children into work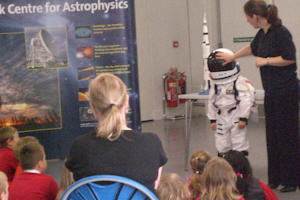 The University has updated its policy on safeguarding children on campus and is asking staff who work with children to familiarise themselves with it. The University is committed to ensuring that children remain safe in all their dealings with the University.
As part of its normal activities, the University engages with children regularly on and off its premises. A child is anyone who has not yet reached their 18th birthday. 
The policy should be used as a framework for defining the steps that you take in planning and managing any activity where children are involved. 
A risk assessment for any activity involving children, using guidance in the policy document, will be necessary.
Staff bringing their children into work
As part of the policy and guidance, there is a health and safety procedure for safeguarding children on University premises specifically in relation to staff bringing their children onto campus. If a child is brought onto campus for a short and informal visit, for example a parent calls into their office on the way home to collect a forgotten item, the child must be accompanied and appropriately supervised by their parent/guardian at all times.
While it is neither advisable not appropriate for staff to bring their children into University buildings, if they need to they must complete a short risk assessment that needs to be signed off by their local manager, as detailed in the policy.
More information
Further guidance and advice are available from the Compliance and Risk Office.
A document explaining the policy is available online. Visit:
To book on a training course at the Staff Development and Training Unit, visit:
For further guidance and advice, contact: