Sign up as an Ask Me ambassador during Orientation and Welcome
01 Sep 2015
The University is asking as many of its staff as possible to wear the Ask Me badge and help new students to find their way around during their first few weeks on campus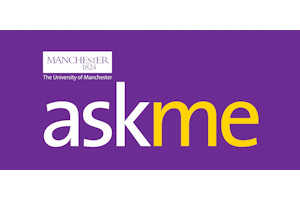 What is Ask Me?
The Ask Me symbol helps new students to identify where they can go or who they can ask for help during their first few weeks on campus. Ask Me has such a positive impact on the student experience and significantly contributes to the warm, friendly and welcoming atmosphere that Orientation and Welcome aims to achieve. It also provides vital information, advice and guidance to students throughout this period.
What is an Ask Me ambassador?
An Ask Me ambassador is someone that wears the Ask Me symbol, whether it is on their badge, t-shirt or hoodie, but more importantly it is someone that has willingness to help and a friendly smile. 
What do I need to know?
Good news is that you don't have to memorise everything there is to know about the University to be a good Ask Me ambassador or to make a difference to a student. You can use your existing knowledge, contacts and resources to help you and if you are really struggling to find the answer then you can always take them to one of the Ask Me desks (in the Students' Union or University Place) or Ask Me lollipops around campus, where they are equipped and trained to answer all sorts of questions.
Sign up
If you'd like to become an Ask Me ambassador, email tracey.campbellmonks@manchester.ac.uk for your badge and additional guide for more information. You can also get involved on Social Media by looking out for #askmeUoM. If you have access to an official University Twitter account please help answer any questions.
Any help you can offer our new students will be really appreciated by them. Here's what some of them said about their experience at the 2014 Welcome: 
"They make everybody feel welcomed, supported, joyful and content with their experiences as students at The University of Manchester."
"Having someone friendly and considerate who is willing to help is what eased the most daunting anxieties I had."