Marking World Aids Day together
01 Dec 2022
We're supporting World Aids Day on Thursday, 1 December, plus read more from one of our graduates, Kieran Yates, as he answers questions about living with HIV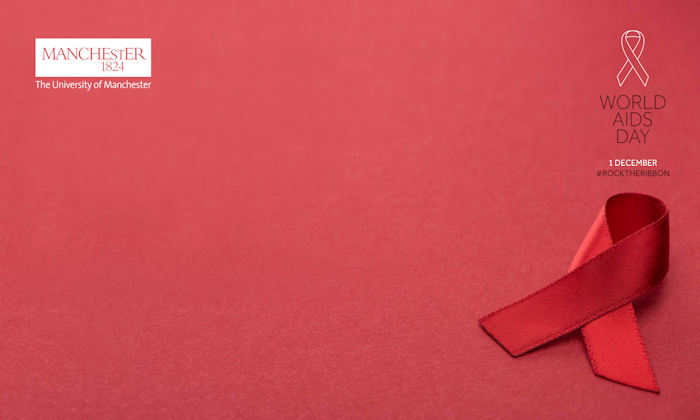 Once again ALLOUT LGBT staff network, Black Asian Minority Ethnic (BAME) staff network and the Disability Staff Network (DSN) are collaborating to raise money for those communities impacted by the disease.
This year we are supporting several charities including National AIDS Trust, The Albert Kennedy Trust and the LGBT foundation and every pound counts.
Collection tins and red ribbons are already available at the following locations:
Roscoe - Staff Learning 5th Floor
St Peter's House Reception
Milk & Honey Café
Main Library Reception
Human Resources Services, Second Floor, Simon Building
Pensions Office, G.029 John Owens Building
Christie Bistro
Disability Advisory & Support Services (DASS)
Engineering Building A
Faculty Office - Crawford House
182-184 Waterloo Place
Additionally we have other activities to raise awareness around HIV & AIDS:
We will have short films, stalls and craft activities for all at Whitworth Art Gallery on Thursday, 1 December 11.30am -1.30pm – please drop in
Daily stories from our staff/students/alumni on our Twitter feed: @UOMEANDD
Alan Gilbert Learning Commons digiscreen will have a message of support marking the day on Thursday – take a pic and tweet about it
The Contact Theatre will be lit up red on Thursday to raise awareness of World AIDS Day
Occupational Health will have a stall on Oxford Road outside Crawford House, offering information and support
Rapid HIV tests available on campus Friday, 2 and Monday, 5 December at the Students' Union
A Zoom/Teams backdrop is available for all staff to use
St Peter's House are collaborating with George House Trust, sharing information and creating spaces for reflection and prayers from 28 November to 2 December. They will transform their Chapel to reflect World AIDS Day for anyone to say a prayer and light a candle. 
Living with HIV: Kieran Yates
Kieran graduated from our University in 2019 with an MSc in Medical Virology. Since then, he has gone on to become a trustee for George House Trust, a charity which provides HIV support, advice and advocacy services. Earlier this year Kieran created Positive + Proud, to share information, resources and his own personal experience of living with HIV.