Marking World AIDS Day together
19 Nov 2019
World AIDS Day will take place on Saturday, 1 December and for several years we've raised thousands of pounds for this important cause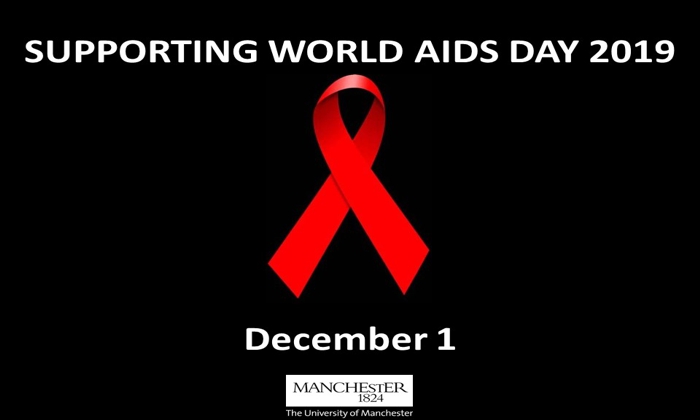 Once again ALLOUT LGBT staff network, Black Asian Minority Ethnic (BAME) staff network and the Disability Staff Network (DSN) are collaborating to raise money for those communities impacted by the disease.
This year we are supporting the National AIDS Trust and every pound counts:
£30 helps them keep online information sharing tool Looped In up to date, improving public knowledge and informing conversation around HIV.
£70 allows them to keep our teaching resources updated and ensure education institutes can access and use them for free.
£100 makes sure they can keep fighting to ensure PrEP (the HIV prevention drug) is available free to everyone who needs it.
£200 helps them fight discrimination, taking on cases and challenging injustice wherever we see it.
Collection tins and red ribbons are already available at the following locations:
Roscoe - Staff Learning 5th Floor
Bainbridge House
St Peter's House Reception
Milk & Honey Café
Ellen Wilkinson Reception
Stopford Building Reception
Jean McFarlane Reception
Main Library Reception
Human Resources Services, Second Floor, Simon Building
Pensions Office, G.029 John Owens Building
The Procurement Hub (John Owens)
Christie Bistro
Dentistry Building
Kilburn Building
George Begg Building Reception
Williamson Building Reception
Disability Advisory & Support Services (DASS)
Zochonis Building (2nd Floor)
Simon Building (1.93 Doctoral Academy)
There will also be cake sales at:
Arthur Lewis Building - will take place on Friday, 29 November from 11am until 2pm
HCRI bake sale - will take place all day on Friday, 29 November - Ellen Wilkinson building, C1.49
Additionally we have two events to raise awareness around HIV & AIDS:
If you would like further information, please contact equalityanddiversity@manchester.ac.uk.