Transgender Day of Visibility
31 Mar 2023
Transgender Day of Visibility is on Friday, 31 March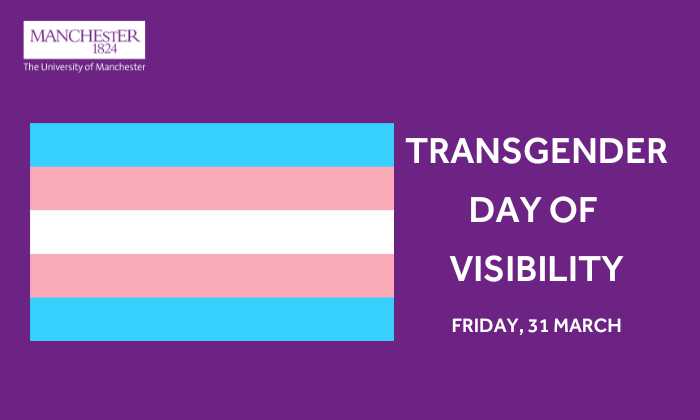 At our University we take a holistic approach that celebrates individuals and their many identities so that we are a truly inclusive organisation.  
We aim to create an inclusive, diverse and accessible environment where it is everyone's responsibility to ensure all members of our University community are treated with fairness, dignity, respect and have a sense of belonging.  
Adèle MacKinlay (she/her), Director of People&OD and Executive Sponsor and Co-Chair of the Women@Manchester staff network said: 
"This is a very important event in the University calendar raising the visibility of our valued trans community and celebrating their achievements and stories.  
We are committed to everyone within our community feeling that they belong at our institution, acknowledging that inclusion is a fundamental part of organisational culture.  We can all play a part in ensuring the trans community feels included and I have already done this by including my pronouns on my signature and video call screens as well as signing up to be an ALLOUT ally. 
I'd encourage each and every one of you to find out more about trans issues and how we can as individuals improve the experience, both at the University and in wider society for this community." 
Events 
Rethinking Trans History with Dr Kit Heyam  
Kit Heyam is a Leeds-based writer, academic, trans awareness trainer and heritage practitioner. They are currently Community Project Lead on the 'Hidden Stories' project at the Royal Armouries, and research fellow on 'Gender Stories' at the University of Liverpool and National Museums Liverpool. During this talk Kit will consider the importance of rethinking trans history when considering trans identities. 
Resources 
We have a number of resources available to support our community of trans people including: 
Tweet about our activity using #TDOV2023 and @UOMLGBT 
ALLOUT 
ALLOUT is a fully inclusive staff network that welcomes all lesbian, gay, bisexual, trans and non-binary staff as well as anyone who may have an interest or wish to support colleagues, friends and relatives.    
ALLOUT has a number of sub groups which bring together intersections of the LGBT+ community (including LGBT+ people of faith and non binary colleagues).  
ALLOUT allies 
TDOV is also an opportunity to remind us of the ways that allies can support trans colleagues and students. 
Allies are defined as individuals who do not identify as LGBT and who believe that lesbian, gay, bisexual, and transgender people should experience full equality in the workplace.