Pride, the final frontier
17 Jul 2019
The University is proud to be supporting Manchester Pride with this year's theme 'Deep Space Pride'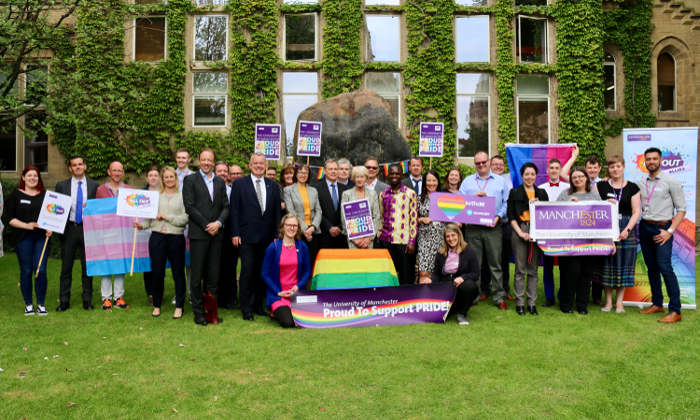 On Tuesday 9, July the University's LGBT+ Staff Network Group ALLOUT and ALLIES, supported by members of the Senior Leadership Team and Pride Committee, gathered to celebrate the official launch of our participation in Manchester Pride 2019.
For the eighth consecutive year, the University will be showing its pride in the parade and we need your help! The Pride Committee has created an Eventbrite page for sign up. Register your interest with your University email address via the Eventbrite page to be included in future communications. This year's theme is 'Deep Space Pride', so set phasers to stunning and let's make this a truly stellar pride entry!
If you cannot join us in the parade this year, but would like to support LGBT+ staff at the University you can do so by becoming an Ally. Allies are defined as 'individuals who do not identify as LGBT ad who believe that all people should experience full equality in the workplace regardless of their sexual or gender identity'. For more information please visit – UoM ALLOUT ALLIES.
For more information about Pride, please visit our website.