Staying safe on campus
03 Nov 2021
A message from Professor Nalin Thakkar, Chair of the Campus Management Group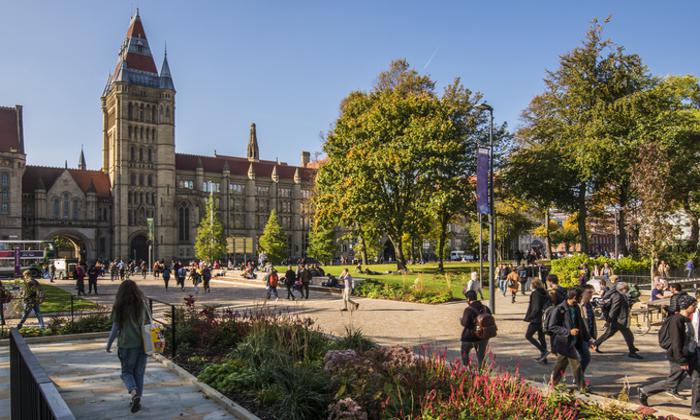 Staying safe on campus is our priority. Cases of COVID-19 have risen nationally and locally in recent weeks. These have been largely in school children and their families. Infections amongst our students remain at a very low level and no confirmed transmission of COVID-19 has occurred on campus since we started this semester. There are a number of steps we can all take to ensure that this remains the case. 
Continuing with the risk assessment processes for activities on campus is very important to our collective efforts - we ask that you ensure that you read and act on any assessments relevant to your work.
We continue to strongly encourage all our staff and students to get vaccinated. This significantly reduces the risk of serious illness. COVID-19 vaccination appointments for first, second and booster doses for those eligible are available now. The 'flu vaccine programme for those eligible is also strongly recommended. This video from Manchester City Council explains more about how you can protect yourself by getting vaccinated against COVID and 'flu, and by taking regular COVID tests.
It is strongly recommended that you wear a face covering whilst moving around indoors on campus and it is expected that face coverings will be worn in lecture theatres and large teaching spaces. We suggest wearing the supplied disposable face coverings in preference to cloth coverings as these are more effective. A plentiful supply of face coverings is available at all building entrances and outside most lecture theatres. Opening doors and windows to let in fresh air can also reduce the risk of transmission. This is covered in our guidance for cleaning and ventilation in campus buildings.
Recent national data has shown that we may not be maintaining good practices like washing our hands with soap and water or using hand sanitiser regularly throughout the day. To help, we have retained all the hand sanitiser stations across campus. Covering your mouth and nose with a tissue or your sleeve (not your hands) when you cough or sneeze can limit the spread of all respiratory viruses. Put used tissues in the bin immediately and wash or sanitise your hands afterwards.
Regular testing is also essential to prevent asymptomatic transmission of the virus. Even if you are vaccinated, please participate in twice weekly lateral flow testing. Tests are available for collection from all catering outlets. Please report all test results and book a free PCR test if your lateral flow test result is positive.
If you develop symptoms of COVID-19, you must stay at home and arrange to have a PCR test (lateral flow tests are not suitable for symptomatic testing). People testing positive frequently present with a wider range of symptoms – to check your symptoms and for further information visit NHS online or phone 111. If you or anyone in your household is affected, even if symptoms are mild, self-isolate immediately and arrange to have a PCR test. At the same time, please make sure you let your line manager know and complete this very short survey so we can ensure all measures are in place to support you and take other actions to prevent transmission. More information is contained in our guidance and the stay at home guidance.
If you are a health or social care worker who has been identified as a household contact and are exempt from self-isolation, there is additional guidance available that you should follow.  
A comprehensive University Outbreak Plan has been formulated by the Outbreak Planning Team who liaise with the Campus Management Group (CMG). The plan and the associated escalation pathways have been approved by CMG and both the Department for Education and the Manchester City Council Public Health Team led by the Director of Public Health.
If we are required to implement any other measures as advised by the Director of Public Health, or national guidance, we have developed plans to help with maintaining our functions if working from home is required. We will keep you informed of any changes.
Professor Nalin Thakkar
Chair of the Campus Management Group