10 things to know about the Manchester student experience next year
06 Aug 2020
As we edge closer to September we are all looking forward to welcoming our students back, so here's a summary of the key things you should know about the student experience next year.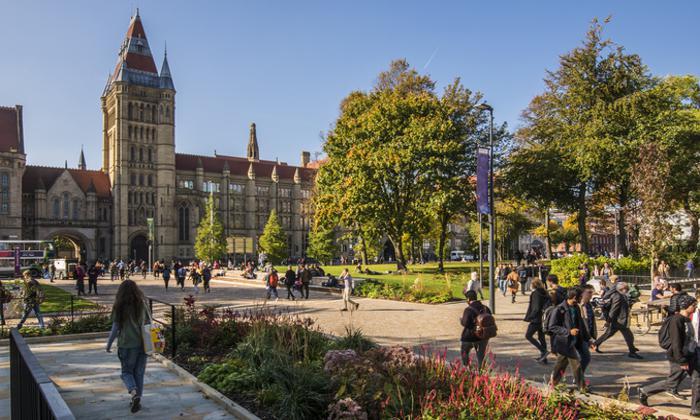 But this of course is just part of the story – we are all one community and the experience for you, our staff is just as important. You can keep up to date on the arrangements and support for staff return to campus via the Campus reopening FAQs on StaffNet.
1. Arrivals in University Halls of Residence will be staggered
Arrivals to Halls of Residence will be staggered, with students being given a date to arrive at halls in order to create the household they will be living in. Where students are sharing accommodation, they are considered a household. This means any Government guidance for households will apply, so they don't need to socially distance from each other and can attend events and activities together. 
2. We're supporting students who need to quarantine
Students whose permanent domicile is within countries required by the UK Government to quarantine on arrival and who have booked University Halls of Residence will be able to arrive two weeks in advance of their accommodation contract start date in September with no charge for accommodation during that quarantine period. We'll be supporting these and other newly arriving students from the airport with a 24hr helpline service and, on the busiest arrival days, a coach collection service.
3. We're making changes to our campus, to help keep everyone safe
When arriving on campus, our students will notice that we've made some changes to help keep us all safe. For example, our buildings will have clearly marked entry and exit points; we'll be asking everyone to sanitize or clean their hands immediately on entry; and markings on floors, stairwells and doors will help maintain social distancing.  
Students (as well as staff) will receive two free washable face coverings at the start of semester alongside detailed campus safety guidance. And we're communicating regularly with students over summer, to reassure them about the measures we have in place. 
4. We're extending our Welcome period for both new and returning students
We want to help all our students make the most of studying in our city and at our University. To increase these opportunities, we have extended our Welcome period to two weeks for new undergraduate students and three weeks for new postgraduate taught students. All students will benefit from at least one week of University-led events, and one week of School and Programme-led events. In addition, for the first time, this year we'll be putting together a programme of events to Welcome Back returning students.
You can read more about our plans for Welcome on StaffNet news.
5. We're doing as much teaching face-to-face as is safe
We're really looking forward to having our students back with us on campus. So that can be possible, we're making changes to the way we deliver teaching. All lectures will be delivered online, allowing students to work at their own pace, where and when it suits them. This gives us the extra space to deliver as many of our seminars, tutorials, practicals and labs as we can, on campus, face-to-face, to small, socially distanced groups – and we're putting safety first for everyone, by sticking with 2 metre social distancing wherever we can. We'll revisit these arrangements during Semester 1, to see if more face-to-face teaching can be introduced.
The new Teaching & Learning Online Network (TALON) has been set up for staff to share their skills and expertise in online learning and to get help and advice from colleagues around the University. Faculties are also developing guidance on the particular tools and techniques that work best for their main teaching styles.
6. We're putting arrangements in place for students that can't come to campus
We know that for reasons beyond their control, it might not be possible for some students to be on campus at the start of year, or at certain times throughout Semester 1, for example due to travel restrictions from their home countries. 
Students in a situation like this will be able to access small group teaching online (as well as lectures) so they won't be disadvantaged – as long as this is possible for their particular programme of study. 
We know that for very practical subjects, or those with substantial placements, or with accreditation requirements, it will be essential for students to come to campus as early as possible in Semester 1. This will mean providing appropriate guidance to students, and  we'll be sharing more information about the process behind this with students and staff later in August. 
7. Most January assessments will be online
We don't know what Government guidelines will be in January 2021, but we do know that under current guidelines, it wouldn't be possible for all assessments to take place face-to-face. So we've taken the decision now to do most January 2021 assessments online, even if restrictions are relaxed by then. There will be a small number of exams and practical assessments that still need to be on campus, where students need to demonstrate a specific skill as part of a professional accreditation; decisions on this will be made and communicated in early September. 
We're also listening to student feedback about assessment to consider what changes we might make longer term, for example by using more online methods where this has proved popular and makes sense, academically.  We want our assessments to be more inclusive – and ideally to give students greater choice.
8. Coming back might feel strange for many students – and that's totally normal
These past few months have been really tough, not least for our mental health, and it's going to take some time to figure out what the 'new normal' means. Whilst coming back is welcome and exciting for lots of students, we know that there will be an element of nervousness for some.
All our support services are open as usual and are now accessible remotely, with face-to-face options too. They can all be found at Student Support along with lots of online wellbeing resources to help our students adjust and respond to the changing circumstances.
9. Students will have access to improved technology and support
We've sped up our IT Modernisation Programme to give students access to the right tools for learning in a digital world. This summer we're rolling out Microsoft Teams to all staff and students, to make it easier than ever to communicate and collaborate. We're also introducing a new version of Blackboard, and tools for students to live chat with staff, rather than waiting for email responses.
Longer term, we've committed to a multimillion pound investment in our technology through the Student Experience Programme, which will significantly upgrade My Manchester so students can do more things online, and change our back office systems so they get responses more quickly.  And thanks to the exceptional generosity of our alumni and friends, we have a fund of more than £1.3m for student hardship, which will include a substantial laptop loan scheme to support any student struggling to get online.
10. It won't be all work and no play
Whatever their interests are outside of classes, there will be a club or society that's looking forward to welcoming students wherever they are in the world - on campus or at home. What's more, Manchester's nightlife is adapting to new ways of operating, albeit with some restrictions. Bars and restaurants across the city centre, Fallowfield and Withington have been reopening, to be followed by those on campus, in Halls, and in the Students' Union over the coming weeks. And our fitness fanatics will be pleased to know that our sports centres will reopen in September, ready for students' return. 
Further information