International Day Against Homophobia, Biphobia and Transphobia
12 May 2020
IDAHOBIT will take place on Sunday, 17 May 2020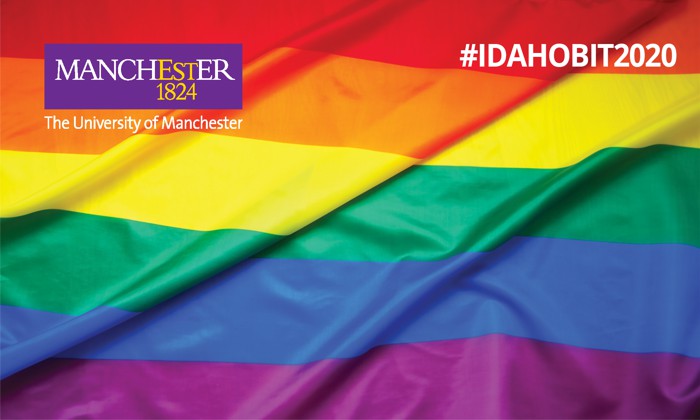 On Sunday, 17 May we will once again celebrate IDAHOBIT with a number of activities.
Whilst we're moving our content online, there's still plenty you can be involved in:
ALLOUT, The LGBT Staff Network group are organising a screening via Zoom of a short documentary 'LGBT Rights Around the World' on Thursday, 21 May from 5pm – anyone can join in!
We've designed some great Zoom backdrops for your meetings too – these can be used around the period of IDAHOBIT to send a positive message to people at the University and beyond.
We're encouraging people to tweet with their preferred LGBT+ flag using @UoMLGBT and #IDAHOBIT2020
It's important to recognise that there are still many barriers for LGBT+ people to overcome and one way to learn about some of them is via our It Gets Better podcast series.
Read our blog by Sami Karamalla-Gaiballa on Manchester's history as a diverse city.
If you would like to be interviewed for a podcast (either as an LGBT+ member of staff or an ally – then please contact lgbt@manchester.ac.uk for a confidential discussion) 
There's plenty more you can do too, and a summary can be found on our dedicated pages.
"The University is proud of its heritage as the first civic University and one that has strived for inclusivity and access to all through our excellent teaching, research and social responsibility.  As Senior Leaders we celebrate our status as a Stonewall Diversity Champion and that we are one of the highest ranked universities in England and amongst the top organisations in the North West for LGBT inclusion.
"We wholeheartedly pledge that all LGBT+ staff are accepted without exception at The University of Manchester.
"As committed ALLOUT allies, the Senior Leadership Team (SLT) recognise the challenges still faced in 2020 by those members of the LGBT+ community in the UK and beyond and will continue to work to ensure equity and inclusion are at the heart of everything we do. We particularly recognise the difficulties faced by those who identify as bi, trans or non-binary both within the education sector and in wider society and welcome suggestions and dialogue to support those individuals to work and study as their authentic selves.
"On the International Day Against Homophobia, Biphobia and Transphobia (IDAHOBIT) we reaffirm our commitment that the University will not tolerate any form of biphobia, homophobia or transphobia and encourage all staff, students and visitors to challenge and report this through our Report and Support tool.
"We would like to raise the importance of IDAHOBIT to all of our employees and invite you to support our LGBT+ colleagues, students and visitors by becoming an ALLOUT ally.  LGBT+ members of staff can find out more about the ALLOUT staff network group, in confidence, by visiting the website or emailing lgbt@manchester.ac.uk.
(Patrick Hackett - Registrar, Secretary and Chief Operating Officer and ALLOUT ally)