If your computer is still using Windows 7, you need to upgrade to Windows 10
05 Nov 2019
As part of the End User Computing (EUC) programme, IT Services are performing mandatory upgrades to Windows 7 computers.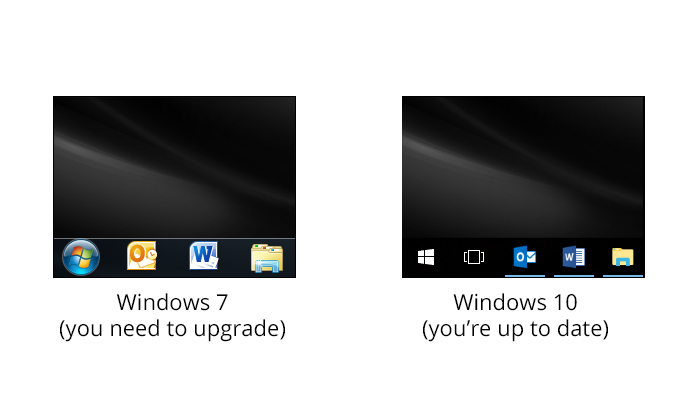 You can easily tell whether you're using Windows 7 or Windows 10 by looking at the Windows icon in the taskbar, usually at the bottom left, as per the image above. The Windows 7 icon is circular and multi-coloured, whereas the Windows 10 icon is solid white.
Currently, many University computers use Windows 7, which will no longer be supported from January 2020. In the near future, computers running out of date operating systems will be disconnected from the University network.
Also, colleagues using Windows 7 on a University managed computer will need to upgrade to Windows 10 before they can use Office 365.
IT Services' EUC team will be onsite upgrading remaining Windows 7 computers by building. However, you will probably find it more convenient to arrange your own upgrade date and time in advance. 
You can do this by taking two minutes to fill in the Windows 10 request form and a member of staff from IT Services' EUC team will be in touch:
Log in to the IT Support Portal. 
Search for Windows 10 upgrade request 
Click on the Windows 10 upgrade request form and fill it in, ensuring you choose the "Fresh self service installation" option
Watch our short video walkthrough guide:
If you have received an email from the EUC team asking for your location information, please fill in this form.
If you have any documents or files stored on your computer's hard drive, it is your responsibility to copy them to your P: drive or removable media (external hard drive / usb stick), as the hard drive will be completely erased.  
If your computer is not suitable for upgrading to Windows 10, an IT Services colleague will advise you on how to proceed.