Staff wellbeing and benefits update
10 Oct 2019
Join the Big White Wall, book on wellbeing events in the coming week and save on home services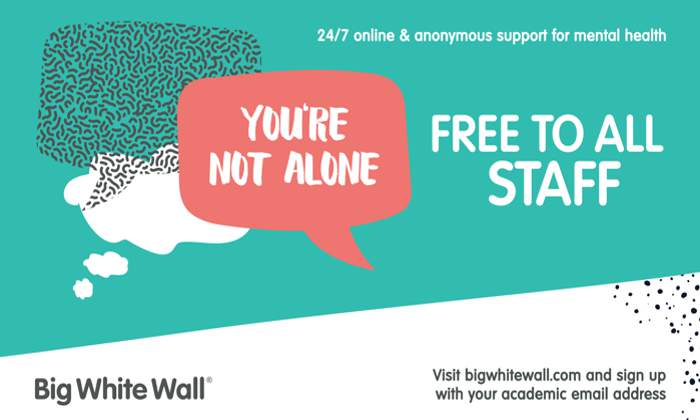 The Prevent Breast Cancer Boobee Bus was on campus yesterday and so many of you came along to get more information on breast cancer – we had such lovely feedback! Thank you to all who came along!
If you didn't get the chance to visit the Boobee bus, on the 23rd October representatives from the Greater Manchester Breast Screening Service based at the Nightingale Centre, Wythenshawe Hospital, will be holding a drop in session for staff in the UMSA ground floor wellbeing room, 12-2pm.
Today is World Mental Health Day and the Division of Campus Life are launching Big White Wall an anonymous online mental health and wellbeing resource – for students and staff. 
You still have time to book for Be Active sessions that run 14th Oct – 6th Dec and we are pleased that Henpicked will be delivering two Menopause Awareness Sessions for line managers and a lunchtime session for all staff on the 16th October. Book now!
There are some tickets still left for Twin Peaks at Manchester Museum. Twin Peaks is an honest and fearless account of being diagnosed with breast cancer at the age of 30 and explains why laughter is the breast medicine. We want to make sure the event is a complete sell out as all funds (from the £12 ticket price) go to Prevent Breast Cancer.
On campus
It's time to book for the annual University of Manchester Staff Association (UMSA) children's halloween party. Only £5 per child. Download the poster with detail!
Oxford Road Corridor in Association with the University of Manchester Staff Association and Staff Wellbeing are delighted to offer to join WW (previously Weight Watchers) free for 12 weeks.
With FoodinAdvance did you know that using your staff card to save 10% across food on campus is so simple. Top up your card online for the first time, and this will automatically register your card or email food-in-advance@manchester.ac.uk giving your eight or nine digit number on the front of your staff card. Simply use your ID card to pay at any of our FoodonCampus outlets and save 10%. After you've registered and preloaded your card for the first time, you can easily top up at FoodonCampus outlets afterwards!
Home services
The Serious Cycle Scheme provide cyclists, their family and friends with free Legal Expenses Insurance cover up to £150,000 for registered members who reach us through a dedicated link via a corporate partner (University of Manchester).
Emerald Life is an award-winning insurance provider, closing the gap between real people and insurance. Emerald also supports community-based projects and charities that promote equality by providing resources and advice, particularly supporting women, the LGBT community and non-traditional families.
To celebrate the launch of New Maker Yards, Get Living are offering 1-month rent-free when you move in before 30 November 2019. No catches and no strings attached.
Keep up to date with all your wellbeing, benefits and payroll giving via www.manchester.ac.uk/reward