Changes to The University of Manchester Senior Leadership Team (SLT)
05 Feb 2019
Important information regarding changes to the Senior Leadership Team (SLT)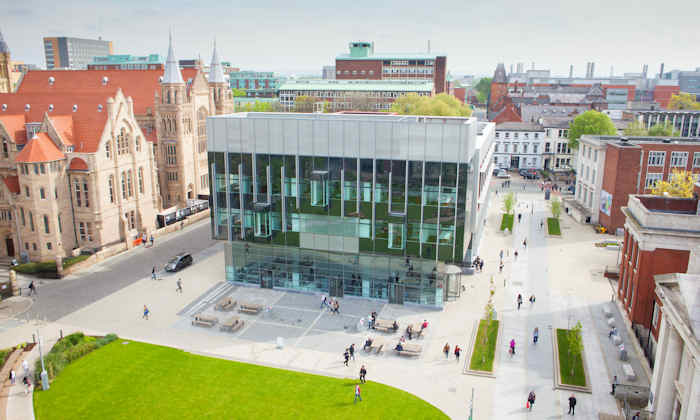 There are to be two changes to the University's Senior Leadership Team in the coming months; with the retirement of the Vice-President for Teaching, Learning and Students, Professor Clive Agnew, at the end of 2019 and the return to his academic role, at the end of July 2019, of Professor James Thompson, the University's Vice-President for Social Responsibility and Professor of Applied and Social Theatre.
Professor Clive Agnew
Clive has served as our Vice-President for Teaching, Learning and Students since 2011. He has overseen teaching, learning and student matters during a period of tremendous change, with the introduction of tuition fees and the increasing emphasis on providing an attractive offer to students, as well as a heightened focus on student well-being.  Under Clive's leadership, we have improved our student offer, enhanced access and adopted a more consistent approach to the student experience while current recruitment figures show a marked increase in students applying to The University of Manchester. We have been at the forefront of innovation too with the Stellify programme for students and with our University College for Interdisciplinary Learning (UCIL). 
Clive has provided leadership to the teaching and learning community in our University and achieved a significant step change in our technology and processes to modernise student experiences of studying here.  Clive is a Professor in Physical Geography at our University. He has researched and taught in the fields of water resources development and applied hydrology. His first degree was in Physical Geography (BSc) from Newcastle University in 1976. His PhD was awarded in 1980 from the School of Development Studies, University of East Anglia for work on water resources and drought in West Africa.  In 2000 Clive was appointed as Head of Geography at Manchester and from 2004 to 2009 served as Head of the newly created School of Environment and Development, prior to taking his current role as Vice-President for Teaching, Learning and Students. Following his retirement, Clive's expertise will be retained by the University, on a part-time basis.
Clive said of his decision: "I have been enormously privileged to work with some great teachers, colleagues and students; and for an institution with a proud past and a bright future.  I have enjoyed my career and my most recent role leading teaching and learning, and I look forward to continuing to work for the University, as well as taking on interesting projects in retirement."
Professor James Thompson
James Thompson is our Vice-President for Social Responsibility and our Professor of Applied and Social Theatre. He has led the University's social responsibility goal for five years, with the latter two years as Vice-President. He also has overall responsibility for the University's cultural institutions, including Jodrell Bank Discovery Centre, The Whitworth and Manchester Museum.
He is the Founding Director of In Place of War - a project researching and developing arts programmes in war and disaster zones. He has written widely on theatre applied to conflict, peacebuilding, and reconciliation and his most recent books are Performance Affects (2009) and Humanitarian Performance (2014). James has combined his Vice-President role with a continued academic role and is resuming his academic role as Professor of Applied Theatre full-time to pursue new research opportunities.
Commenting on his move, James said: "This has not been an easy decision, particularly given my enthusiasm for the social responsibility agenda.  I have thoroughly enjoyed working with all my colleagues and am pleased to have worked on the launch of Creative Manchester, on securing funding for the incredible new galleries planned for the Manchester Museum, the stunning new facilities for The Whitworth and for the fantastic new investments at the Jodrell Bank Discovery Centre.  But I have also been proud to be associated with the work we do in local communities in Moss Side and Ardwick to help people back into work, our commitment to provide over a thousand school governors and our international Equity and Merit scholarships. Our social responsibility agenda has always been about local, national and global impacts and our University is the richer for these great programmes and the work of colleagues in social responsibility across our University."
Distinctiveness
President and Vice-Chancellor of The University of Manchester, Professor Dame Nancy Rothwell said of Clive and James: "I understand the reasons for Clive and James pursuing new challenges and wish them well for the future.  Their contributions as members of the Senior Leadership Team have been hugely valuable and they have added immeasurably to the distinctiveness of The University of Manchester and our reputation for teaching and learning, and social responsibility.  
"I am delighted that we will still retain strong ties with them both as they move on to new ventures."
The process for recruitment to successors will be advised in due course.
Professor Graham Lord
Professor Graham Lord has joined the University as Vice-President and Dean of the Faculty of Biology, Medicine and Health (FBMH).
He also takes up the role of Executive Director of the Academic Health Science Centre as part of Health Innovation Manchester, and will represent the University on the Board of the Northern Health Science Alliance.
Graham takes over from Professor Peter Clayton, who has been Interim Vice-President and Dean for six months following the departure of Professor Ian Greer.
Graham qualified in medicine from the University of Cambridge in 1991 and gained his PhD at Imperial College London in 2000. He was appointed as a Consultant in Nephrology and Transplantation at Hammersmith Hospital in 2003; and from 2003 to 2008, he was a visiting scientist at Harvard University, before returning to the UK to become the Chair of Medicine at King's College London, where his research group investigated immune cell biology and the diagnosis and treatment of patients with organ transplant rejection and autoimmune diseases.
You can find out more about Graham in his first message to Faculty staff.