WATCH: Manchester the most LGBT-inclusive university in England
21 Jan 2019
Top 20 placing in Stonewall Workplace Equality Index for two years running – and we've won Highly Commended Network Group Award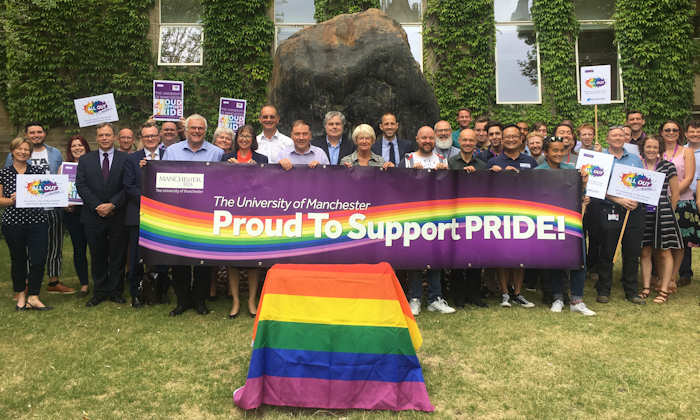 The University has maintained its Top 20 position for the second year in the latest Stonewall Workplace Equality Index – making us the most LGBT-inclusive university in England.
The Index is an annual audit of workplace culture for lesbian, gay, bi and trans staff and this is the fifth year that the University has featured in the Top 100.
Run by Stonewall, the lesbian, gay, bisexual and transgender rights charity, the Index is free to enter for any employer and 445 employers submitted entries to the 2019 Index, across the public, private and third sectors.
As part of the Index there is a staff feedback questionnaire that participating employers can ask their staff to complete. This year Stonewall received over 92,000 responses to the staff survey making it one of the largest national employment surveys in Britain. Our staff contributed 363 responses to this element and this gives vital information to Stonewall on the experience of all staff, not only those who identify as LGBT.
This year the group has been specially selected by Stonewall for a Highly Commended Network Group Award. This is in recognition of the many activities run by the ALLOUT staff network during 2018.  These have included a number of activities celebrating different intersectionalities as well as marking days such as The International Day Against Homophobia, Biphobia and Transphobia (IDAHOBIT) in May, Bi Visibility Day in September and Transgender Day of Remembrance (TDOR) in November.  The group also leads the University entry for Manchester Pride and will continue to do so for 2019. To find out more, and even take part, visit:
Equality, Diversity and Inclusion Partner at the University, Paul Marks-Jones, who is responsible for compiling the University's entry and working with the staff network, said: "The Stonewall project team is delighted that we have maintained our Top 20 position in what is becoming an increasingly competitive index.
"It is a testament to the guidance, polices and support the University provides, as well as the efforts of the many staff who, through our networks and events, contribute constant feedback, support and awareness-raising activities.
"All of this ensures the University a place where lesbian, gay, bisexual and transgender people are an important and valued part of the workforce."
Director of Human Resources Karen Heaton, said: "This is another year's positive result for the University reflecting our continued commitment to providing an inclusive working environment for our staff. We value the hard work and guidance provided by our LGBT staff network group."
The University will be running a range of events and activities to celebrate LGBT history month in February.
For more information, see:
The full Workplace Equality Index 2019 is available at: