University signs mental health pledge
19 Jun 2013
Our Disability Champion, Professor Clive Agnew, has signed the Time to Change pledge, which commits the University to tackling mental health stigma and discrimination and raising awareness of this issue.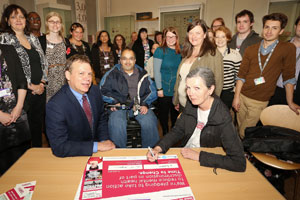 Regional Coordinator at Time to Change, Karen Machin, was also present at the signing, which took place on Thursday, 13 June at Manchester Museum.
Staff and students from across the University attended the event. The General Secretary of the Students Union, Nick Pringle, spoke about the importance of signing the pledge and a student, Natalie, gave an inspirational talk about her experiences in dealing with mental health.
After the signing, Clive Agnew said "I was very pleased to join Karen Machin at the ceremony to sign the 'Time to Change Pledge' on behalf of the University. As an organisation, pledging to support Time to Change is a demonstration of our commitment to be active in tackling mental health stigma and discrimination in the workplace.
"To reinforce our commitment, we have agreed an action plan which shows how we shaill tackle mental health stigma and discrimination."
The University's Time to Change Pledge action plan includes:
An awareness raising campaign (watch out for forthcoming videos);
Developing  training for line managers and frontline staff;
Undertaking a Time to Change health check;
Working with the University of Manchester Students Union on their pledge and action plan.
You can read the full document online at:
The Time to Change Pledge was initiated and promoted by the Disabled Staff Network (DSN). You can find further details of their activities at:
Further information