Anti-bullying week
13 Nov 2023
Anti-Bullying Week 2023 that takes place from Monday 13 to Friday 17 November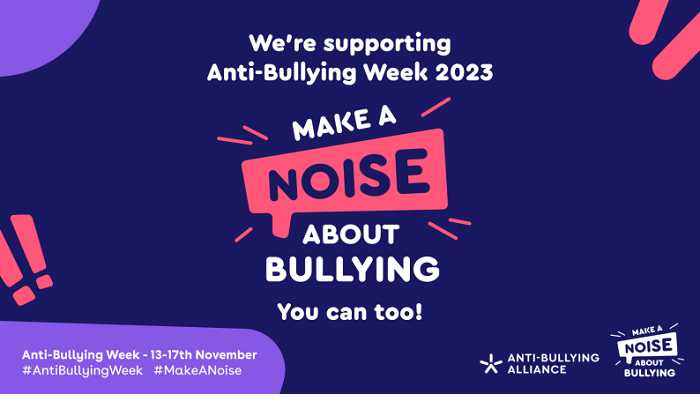 At the University, we believe that bullying, harassment, and discrimination are never okay. Nobody on our campus or in our surrounding communities should be treated badly. 
Today we mark Anti-Bullying Week 2023 that takes place from Monday 13 to Friday 17 November. Anti-Bullying Week 2023 is coordinated in England, Wales and Northern Ireland by the Anti-Bullying Alliance and this year's theme is 'Make A Noise About Bullying'. 
All of the support available at our University and what we mean by bullying, harassment and discrimination is included in the Dignity at Work and Study Procedures.  
Support at the University 
Report and Support 
Report and Support is a confidential platform and can be used to tell us about any form of bullying, harassment or discrimination that you have experienced or witnessed.   
Information submitted via Report & Support is not linked to any other system at the University and is only viewed by the triage teams in the Directorate of Equality, Diversity and Inclusion, for staff, and Advice and Response, for students.   
Anonymous reports are useful for when people see something and want to make us aware of a behaviour or situation.  These reports are held confidentially and can help spot patterns of behaviour as well as alerting us to people in danger.  
Should you choose to seek further advise from an advisor, they will see this information to be able to advise you accordingly. 
Mediation 
Mediation provides a safe and confidential space to help you resolve issues at work. 
This is a voluntary process and can be used in numerous situations.  We have a number of trained mediators at the University who confidentially handle these cases for staff. 
Staff network groups 
Staff network groups are a fantastic way to network with people from all over the University.  Many of the groups also offer confidential support and advisory services from their members to any member of staff.  
More information