Thousands of meals form part of student support package
13 Oct 2020
Staff have stepped up to make thousands of deliveries and support isolating students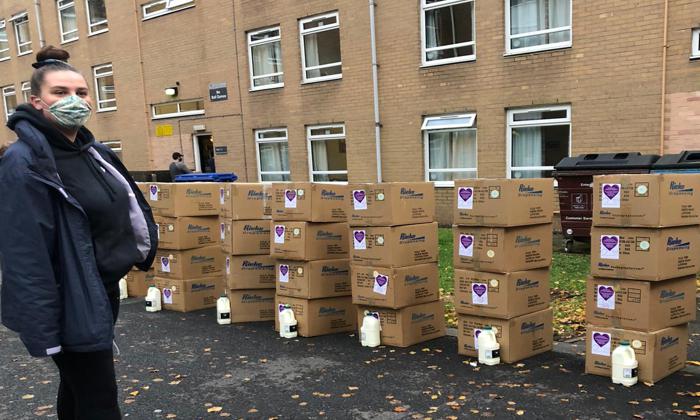 With a number of students in Halls self-isolating, our Hospitality and Events and Directorate for the Student Experience colleagues have been going the extra mile to provide food and other support.
During this period, the teams, helped by student volunteers, delivered more than 24,000 meals.
Catered students have received daily meals prepared by in-house chefs which include a home cooked meal, breakfast items, fruit and drinks. Students in non-catered halls are being delivered packs as a supplement to ordering supermarket supplies. The University and Students' Union have been working with Sainbury's in Fallowfield and Coop Food to provide rapid-delivery, student-only slots.
The University has also partnered with local artisan traders from The Market at UoM to deliver a breakfast, lunch and dinner for periods of three days.
Director for the Student Experience Dr Simon Merrywest said: "Looking after our students and their welfare is our top priority.  We wanted to make sure they are provided with delicious and healthy home cooked meals and any other support they need. I am very grateful to the staff and student volunteers who have been working above and beyond to accomplish this." 
Alison Shedlock, Head of Campus Services, said: "Our teams have been working around the clock to deliver high-quality and nutritious meal packs each day.
"As a University we care deeply about student wellbeing and as a team we are here to deliver what we can to ease the difficulties of isolation."
As well as food, students have also been supported with practical matters such as laundry, getting their post and prescriptions. Student volunteers have been operating a 'check-in and chat' along with ResLife advisors who have been working around the clock. Our international team and student volunteers have also been greeting incoming students at the airport, providing them with support and explaining the local and national restrictions. Each international student in halls also receives a three-day quarantine pack to help them settle in
The full range of student support measures can be found on the University website. If you become aware of a student (or staff member) who is self-isolating or has tested positive, please follow our COVID case reporting process to ensure they can be supported.