Get on your bike for Annual Cycle Event
02 Jun 2017
The Annual Cycle Event, in conjunction with our Corridor Partners, will be at University Place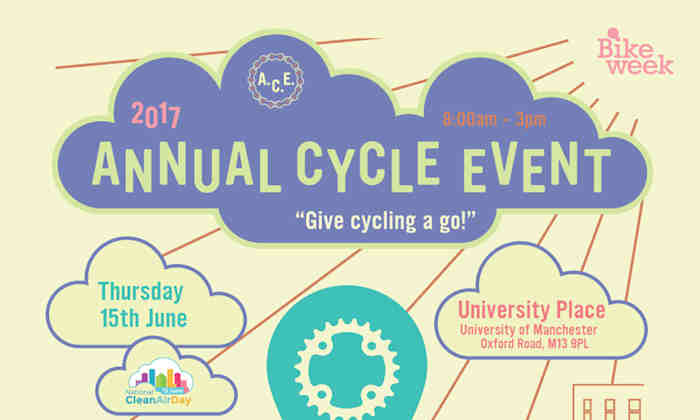 The Annual Cycle Event (ACE) on Thursday, 15 June returns for 2017 bigger and better than ever!  The Corridor Partners have organised a day to celebrate all things cycling and supporting National Clean Air Day this year as well.
We have devised a programme to promote and celebrate cycling, show how easily cycling can be part of everyday life, and encourage people to 'give cycling a go!'.
The event kicks off at 8am with a free breakfast for cyclists at EATS Restaurant followed by the main event which will take place outside University Place until 3pm.  There will be competitions, giveaways, bike sales and lots of organisations on hand to give cycling advice and encouragement.
Why not grab yourself a free one-week bike hire, contribute to a colourful communal artwork, go wild in the ACE photo booth with free instant prints for everyone or challenge yourself in the 'How Slow Can You Go' cycle race with prizes for the slowest cyclists! 
We will also be celebrating the Oxford Road transformation. Visit colleagues from Transport for Greater Manchester on their stall to find out more information.
You can register for ACE 2017 (drop in anytime between 8am-3pm) and receive an entry into the prize draw.
Bike hire
To book a free one-week bike hire email es@manchester.ac.uk (£50 refundable deposit required on collection of the bike)