Manchester's Fab Four win University Challenge
30 Apr 2013
Manchester retained its University Challenge title on 29 April, beating University College, London 190 – 140 in the televised final. It is the fourth victory for The University of Manchester in just eight years.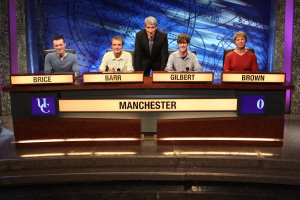 Team captain Richard Gilbert from Solihull said: "I think we did well because we had the perfect range of knowledge across the team, David is very strong on maths and science, I'm a bit of a Jack of all trades, Debbie is great on biology and Adam's a scientist, so we had a good mix of skills.

"We were good friends before the final began and we all trusted each other and were remarkably calm going into the final."

This year, the Manchester quartet beat Lincoln College, Oxford, Magdalen College, Oxford, Imperial College, London, the medics of St Georges, London and Bangor University before their stunning victory over UCL in last night's big showdown.

Their only defeat this year came in their second quarter final, when they lost 230-150 against fellow finalists, UCL, but stayed in the compeition.
The Manchester team comprises Richard Gilbert, studying Linguistics, Adam Barr from Muswell Hill, studying Physics with Astrophysics, David Brice from Kingston-upon-Thames, studying Economics and Debbie Brown from Buxton, studying Pain Epidemiology.

Richard Gilbert said: "We felt under tremendous pressure to get to the final because Manchester has such a proud recent history in the competition, but once we'd got there in many ways that pressure was lifted.  UCL had already beaten us once in the series, so we went into the final very relaxed and feeling as if we had nothing to lose.

"The only time we were really nervous was in the first round when we almost got knocked out by Lincoln College, Oxford.  We just froze for the first twenty minutes and the questions didn't land kindly for us at all, so we were lucky to scrape through the opening match."

Team member David Brice, 24, believes he was destined to join the University Challenge team.  He said:  "I remember getting off the train for the open day and meeting (former contestant) Rachael Neiman and thinking, 'Wow!' I put down Manchester on my Ucas form, thinking 'it must be a very good university if they are so good at University Challenge.'"

Rachael has since become the team's training partner.

Manchester's team is mentored brilliantly by long-serving coach Stephen Pearson, a University librarian who has enjoyed considerable success with University Challenge, having captained the team himself in 1996.

The media has already dubbed Stephen the 'Alex Ferguson' of the quiz world, but the modest librarian isn't so sure: "I don't know about that – I've been doing this for 15 years whereas he's been in the job for at least 25," he said. "But I may end up doing it for that long. As long as I keep finding it fun, I hope to carry on until retirement, which is not for another 20 years or so."

The President and Vice-Chancellor of The University of Manchester, Professor Dame Nancy Rothwell, said:  "There is a real buzz around the campus today, having seen our team win University Challenge yet again.  We are going to hold a celebration dinner for the team in June and I am particularly pleased for their coach Stephen Pearson who deserves great credit for these four victories in just eight years."

More than 120 universities enter the show every year, and it remains the UK's longest-running quiz show. But Manchester's history in the competition has not been without controversy – in 1975 the Manchester team staged a protest against what they saw as the show's elitist bias towards Oxbridge, which allows separate colleges to enter. They answered 'Marx' or 'Trotsky' to everything.