Call for Science Spectacular 2013 (part of Manchester Science Festival)
29 Apr 2013
Let us know what you have planned or register your interest to take part in the Science Spectacular by 10 May 2013.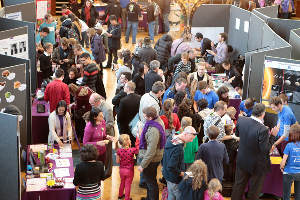 This year will see the seventh Manchester Science Festival taking place from Saturday 26 October to Sunday 3 November 2013. With over 100,000 people attending last year's event, this has become one of the UKs most popular science festivals.
The University of Manchester is a key partner to this Festival – and we want to help promote your participation and provide an opportunity for you to take part one of the biggest, most diverse science fairs in Manchester.  There are a number of ways in which you can get involved:
Running a "trailblazer" event in the weeks running up to the Science Festival for local school pupils.
You may already have planned your own event as part of the Science Festival. We would really like to know about all events so we can help cross promote.
The University will be hosting the "Science Spectacular" on Saturday 2 November, from 11am to 4pm, in Whitworth Hall and Manchester Museum. We are looking for researchers, students or academics who are confident communicators to run a tabletop activity as part of the science fair. With more than 2000 visitors last year, the focus will be on communicating your passion for your research, and ensuring that attendees leave with a spark for science!
Registration
So let why not let us know what you have planned or register your interest to take part in the Science Spectacular by completing our online form by 10 May 2013:
Further information
If you have any questions, please contact one of the following: