Tonight's the night for our University Challenge team!
29 Apr 2013
Manchester attempts to retain its crown in the final of the TV quiz at 8pm on BBC2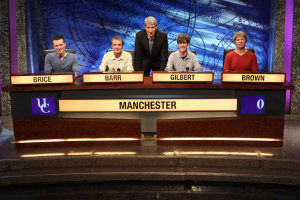 The reigning champions face University College, London, in front of an anticipated TV audience of approximately three million viewers.
With three wins, a second place and four semi-finals since 2006, the TV quiz has put the spotlight firmly on Manchester.
Last year, the Manchester four-some beat Pembroke College, Cambridge by 180-135 in the final.
This year Manchester has beaten Lincoln College, Oxford, Magdalen College, Oxford, Imperial College, London and the medics of St Georges, London to reach the big showdown.
Their only defeat this year came in their second quarter final, when they lost 230-150 against fellow finalists, UCL, so Manchester will seek to make amends this time around.
The Manchester team comprises captain Richard Gilbert from Solihull, studying Linguistics, Adam Barr from Muswell Hill, studying Physics with Astrophysics, David Brice from Kingston-upon-Thames, studying Economics and Debbie Brown from Buxton, studying Pain Epidemiology.
Manchester's team is mentored brilliantly by long-serving coach Stephen Pearson, a University librarian who has enjoyed considerable success with University Challenge, having captained the team himself in 1996.
The media has already dubbed Stephen the 'Alex Ferguson' of the quiz world, but the modest librarian isn't so sure: "I don't know about that – I've been doing this for 15 years whereas he's been in the job for at least 25," he said. "But I may end up doing it for that long. As long as I keep finding it fun, I hope to carry on until retirement, which is not for another 20 years or so."
Team member David Brice, 24, believes he was destined to join the University Challenge team. He said: "I remember getting off the train for the open day and meeting (former contestant) Rachael Neiman and thinking, 'Wow!' I put down Manchester on my Ucas form, thinking 'it must be a very good university if they are so good at University Challenge.'"
The final can be seen on BBC2 on Monday, 29 April, at 8pm.