Nature's Library opens to the public
25 Apr 2013
Museum throws open doors to new exhibition this weekend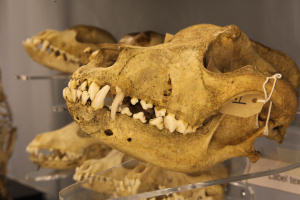 Manchester Museum's new gallery is a 'library' of the natural world – boasting four million preserved specimens instead of books.
Nature's Library capitalises on the Gothic Revival architecture and is inspired by a mysterious Gothic library to create a dramatic setting within which to explore the displays.
Some cases explore the motivations of the people who contributed to the collection. Others explore the diversity of the natural world and how it is represented in the Museum collection, including stuffed mammals, extinct birds, butterflies and beetles, corals, sponges, plants, meteorites, volcanic lavas, fossils and many more. Some exhibits explore how the collection relates to teaching and research in the University.
The gallery explores how the collection is used to understand the world around us, using old and new techniques. How, for example, museum collections allow people to study places that they couldn't possibly go to themselves and how they document the natural world.
The gallery also explores some of the 'behind-the-scenes' work of the Museum and why—with 4 million specimens already—it is important that museums continue to collect things.
The gallery has been funded by the DCMS/Wolfson Museums and Galleries Improvement Fund, Sir Siegmund Warburg's Voluntary Settlement, John Spedan Lewis Foundation, the Pilgrim Trust and the John Paul Getty Charitable Trust .
The development, led by Curator of Earth Sciences David Gelsthorpe and Head of Collections and Curator of Zoology Henry McGhie, is the latest in a series at the Museum.