University helps 1,000 local people find work
24 Apr 2013
The University has now helped 1,000 long-term unemployed people into work, as Chris Livingston from Whalley Range took the tally into four figures.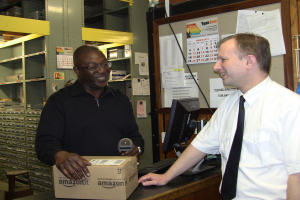 A thousand people have been helped into employment through the University's unique leadership of The Works, an employment and skills centre established by the University two years ago to equip unemployed local people with the skills which make them attractive to employers.

This week, Chris became the 1000th client to find a job as he started a permanent position in the Stores of the University's School of Physics and Astronomy.

Chris, 48, said:  "I initially took a temporary position last August but it was made permanent last Monday so I am absolutely delighted. Initially it was meant to be six or eight weeks as holiday cover, but it kept being extended and now it's for good. I guess they just fell in love with me!" 

The Stores hold stock for Physics, Chemistry and Earth Sciences, and Chris is responsible for finding the right items for the right people.

He said: "They have a brilliant management team here and I just clicked straight away with my boss, Mr Ogden. My friends and family have noticed a real difference in me and they're really happy for me."

Noel Ogden said: "We were operating with just two staff and that was causing problems covering holidays and sickness absence, so we approached The Works and the rest is history.  We hit it off immediately with Chris, we worked so well together as team and I was delighted when the position became permanent last week."

Chris had previously worked for more than a decade as a metal finisher at a company supplying car parts, but was made redundant in 2009 due to the recession, and had been out of work ever since.

He admitted he had no idea how difficult it would be to find a job, and how much things had changed. With three children under the age of 16, life was about to get very tough. 

Chris said: "I saw a leaflet for The Works in Hulme Library and went to see them. I got so much help from the staff; they were brilliant, helping me to put together a CV, computer training, job searching and so on. I am so happy to be starting work again, and the night before I couldn't sleep, I was so excited! I feel like this is a new start for me."

On Monday Chris is returning to The Works where he will meet with the University's President and Vice-Chancellor Prof Dame Nancy Rothwell, during a visit to meet staff and clients.

The University's Assistant Director of Human Resources Steve Grant, said:  "The Works is a part of the University's wider ambition to support communities in Manchester.  We recognised that there was a gap in the support available to unemployed people and decided that, as a major employer in the region, we could make a difference.
"Our exciting partnership with Work Solutions, Chris's story and those of many others demonstrate how organisations can work together to help people change their lives and in doing so have a positive impact on their communities. There are thousands of talented people actively looking for work in Manchester who simply need a helping hand."

Jerry Stokes, Chief Executive of Work Solutions, who provide training and support at The Works said: "It's great news that Chris has become the 1000th person to secure a job through The Works. It's not easy getting back into the job market at the moment, and our approach is about working with each individual to identify their needs and to tackle any barriers that are holding them back."