Free lunchtime concert with Gamelan Degung
23 Apr 2013
On Thursday, 25 April 2013 (1.10pm) in The Martin Harris Centre for Music and Drama.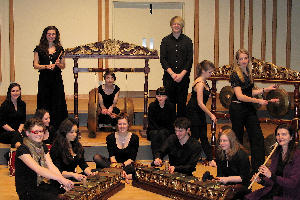 Gamelan Degung is a small gamelan orchestra unique to Sunda, the mountainous region of West Java, Indonesia.
University of Manchester music students, with guests, offer a dynamic programme of music for Gamelan Degung, to culminate their course in association with the Hallé.
The concert will include traditional and contemporary Sundanese repertoire, together with original compositions by members of the group.
Lunchtime concerts are free: there's no need to book - just turn up.
Further information