Staff Survey is now closed
22 Apr 2013
Thanks to all of you who have taken part.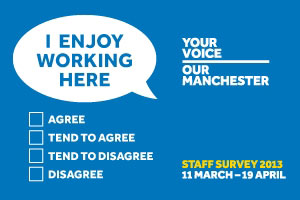 The Staff Survey 2013 closed on Friday 19 April, however any paper questionnaires posted on Friday, and which arrive with Capita on Monday, 22 and Tuesday, 23 April, will be accepted.
In the next few days, the final iPad winner will be revealed, along with more details about how many staff took part in the survey. 
In the meantime, for more information about the Staff Survey 2013 visit: