Sweet success!
19 Apr 2013
Kaffeination Ltd – the innovative energy sweet company founded by Manchester Business School graduates – has swept the board at the Rice University Business Plan Competition in Texas, the largest competition of its kind in the world.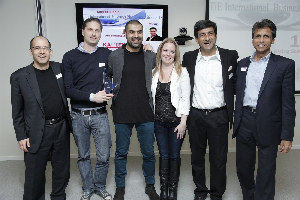 The company took first prize in the Shark Tank Presentation round, first prize in the Best Company Showcase and third prize in the Best Elevator pitch.
Team members Matthias Schmid and David Reetz studied on the MSc Innovation Management and Entrepreneurship degree programme at Manchester Business School.
The idea for the energised gummies, UPs SolidEnergy, came when the co-founders were sitting at their desks revising. After several coffees, a bag of sweets was lying next to an empty cup and they wondered why there wasn't a product on the market which combines both sweets and caffeine.
The company has also won the University's annual business start-up competition Venture Further 2012 and the European final of The Indus Entrepreneurs (TiE) International Business Plan Competition, which allowed the team to compete against 41 other finalists from across the globe in this latest win.
They received $2,750 in prize money, made some fantastic contacts and met a number of potential investors. The scale of their achievement is highlighted by the fact that they were the only retail-product business among the finalists, a majority being from science or technology backgrounds. Their success has received press coverage from Fortune Magazine and the CNN website.
Co-founder David said: "It's thanks to the MBS enterprise team and their support with producing our business plan for the Venture Further competition that we have been able to achieve what we have."