University Challenge team prepares for final push
18 Apr 2013
The University of Manchester is hoping to reach the final of University Challenge on Monday night as they chase a second successive title.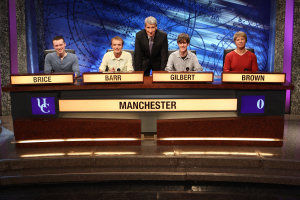 The reigning champions face the University of Bangor in the last of the semi finals on BBC2 at 8pm.  The winners will face University College, London in the final.

Manchester have been series champions in three of the last seven years, and the class of 2013 has made it through to the final four once again with victories over Lincoln College, Oxford, Magdalen College, Oxford, Imperial College, London and the medics of St Georges, London.

Their only defeat came in their second quarter final, when they lost 230-150 against confirmed finalists UCL.
The Manchester team comprises team captain Richard Gilbert from Solihull, studying Linguistics, Adam Barr from Muswell Hill, studying Physics with Astrophysics, David Brice from Kingston, studying Economics and Debbie Brown from Buxton, studying Pain Epidemiology.

Last year, The University of Manchester quartet beat Pembroke College, Cambridge by 180-135 in a dramatic final, watched by three million viewers.

Manchester's team is mentored by long-serving coach Stephen Pearson, a University librarian who has enjoyed considerable success with University Challenge, having captained the team himself in 1996.

Manchester has dominated the competition under Stephen's tutelage, lifting the trophy in 2006, 2009 and 2012 as well as finishing runners-up in 2007.  The last seven Manchester teams to appear on the show have all reached at least the semi final stage.

Manchester got off to a shaky start to the series this time around, only just beating Lincoln College Oxford, but have since made up for that with a string of convincing victories.

Monday's opponents Bangor haven't reached the semi finals since 1999 but they've seen off competition from St Andrews, Durham and King's College, Cambridge to reach this year's final four.