Help our graduating students onto the career ladder
03 Jun 2013
Please promote the Graduate Recruitment Fair on 12 and 13 June to your final year undergraduates and postgraduates.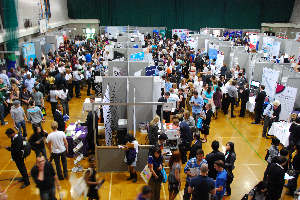 As helping our students find employment upon graduation is becoming increasingly important , the Careers & Employability Division would be very grateful for your assistance in promoting the forthcoming jobs fair to our graduating final year undergraduates and postgraduates to help them in their job search.
The Graduate Recruitment Fair
The Armitage Centre, Fallowfield, Manchester
Wednesday 12 & Thursday 13 June 2013 (10.30am - 4pm)
Around 160 exhibitors will be attending (different ones each day) with hundreds of opportunities for 2013 aimed at final year graduates/postgraduates in a wide range of degree disciplines.
The fair is organised by the Careers & Employability Division. Full details are online at:
Further information
If you would like further details, as well as any publicity items such as suggested texts for School emails, posters or leaflets, please contact: