Corporate responsibility award for FoodOnCampus
12 Apr 2013
FoodOnCampus, along with FoodInResidences, has received the Cost Sector Catering Corporate Responsibility Award in recognition of its superb work in support of the University's social responsibility goal.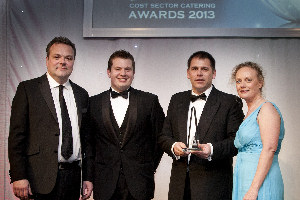 Judged by industry leaders, the award is given to the organisation that has, above all others, integrated social, economic and environmental concerns into its business.
FoodOnCampus and FoodInResidences endeavour to support the social responsibility goal across the whole range of their operations by:
Championing Fairtrade;
Buying local and seasonal food (most notably working with Manchester Veg People to purchase organic Manchester-grown produce wherever possible);
Sourcing food from farming systems that minimise harm to the environment and improve animal welfare; and
Keeping waste from their operations to a minimum.
The award also recognises FoodOnCampus's widening participation work, particularly with The Works hospitality skills academy, from which a second cohort of 21 students from the local area has recently graduated.
The Chancellors Collection, who offer exciting menus at Christie's Bistro, Café Muse at The Manchester Museum and Café Rylands at The John Rylands Library, were runners-up in the Event Caterer category - a wonderful endorsement of the great work they do in these historic venues which can present challenges for the delivery of hospitality.
Alison Aucott, Head of Hospitality and Events, said: "This is a great achievement for both teams, especially as it is judged by hospitality industry peers and gives the teams industry-wide recognition."
Read more: