Fourth Staff Survey iPad winner announced!
08 Apr 2013
Julian Thomas wins iPad thanks to the Staff Survey 2013.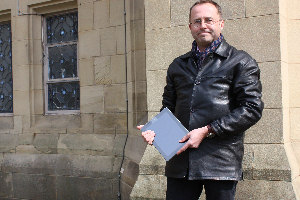 Julian, who is a Professor of Archaeology in the School of Arts, Languages and Cultures, was chosen at random from all of the people who have completed and submitted the Staff Survey 2013 since it opened on 11 March.  
Capita, which is running the survey on the University's behalf, will be choosing a winner each week the survey is live, from everyone who has completed the questionnaire.   So the sooner you submit your survey, the more chances you have of winning one of the five remaining iPads.    
And Julian isn't the only one to benefit from the Staff Survey 2013.     
After completing the survey you can choose to make a £1 donation to one of the following charities:
The Christie
Cancer Research UK
Water Aid
There's still time to complete the Staff Survey – it's open until Friday 19 April.    You should have received an email from Capita on Monday 11 March with a link to the survey – it will appear in your email inbox as:
From: Surveys, staff
Subject: University of Manchester Staff Survey
If you can't find it, call Capita on 0800 587 3115 and they will resend you the link.
If you don't have email access at work, then your line manager will make sure you receive a paper copy of the survey to complete and return to Capita.    
To find out more about the Staff Survey 2013, visit: