Manchester wins through to University Challenge semi-finals
04 Apr 2013
The University team defeated the medics of St George's London by 220:135 in their last quarter-final on 1 April.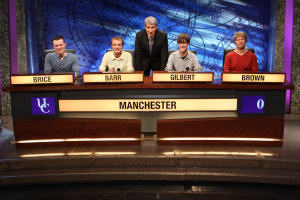 The team, which comprises undergraduates Richard Gilbert, the team captain (BA in Linguistics), Adam Barr (MPhys in Physics with Astrophysics), David Brice (BA in Economics), and graduate student Debbie Brown (PhD in Pain Epidemiology), is now through to the semi-finals.
The University has been series champion three times in the last seven years, and they are the reigning champions from 2012.
The class of 2013 made it through to the quarter-finals this year with victories over Lincoln College, Oxford and Magdalen College, Oxford, and then defeated Imperial College, London in their first quarter-final on 4 February.
If you missed the programme, or would just like to re-live Manchester's victory, you can watch it online at: