Would you like to support a colleague's career development?
27 Mar 2013
Members of staff are invited to apply by 2 April 2013 to act as mentors for Manchester Gold, the University's successful and unique career mentoring programme.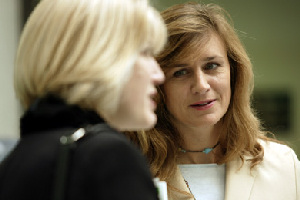 The scheme is looking for potential mentors – who may be members of academic, technical, administrative or secretarial staff - to help colleagues (mentees) to find a way forward in achieving specific career development objectives. In 2012, over 50 mentoring partnerships were established through Manchester Gold, which is managed by the Staff Training and Development Unit.
Once a mentor has been matched with a mentee, they will meet four to five times between April and December and the mentor will give one-to-one advice on professional development. During this period, both mentor and mentee will have the opportunity to attend supporting workshops. The programme involves a time commitment of approximately 15-20 hours.
Peter Crowe, Head of Technical Services in the Faculty of Medical and Human Sciences, has been a mentor for the last five years - and also has experience of being a mentee. He says that he has always enjoyed helping people find a way forward in their careers and giving them the opportunity to talk about career concerns in confidence.
Explaining the mentoring role in more detail, Peter says: "Mentors can help mentees to rationalise their feelings, identify any conflicts they may have about their career progression, and become more resolute about what they are doing. A mentee might well arrive at the same conclusions if left to his/her own devices, but a mentor's input can be of real value in speeding up the process."
Peter, who is responsible for all 135 technical staff in his Faculty, has encouraged each of his immediate team to become mentors and feels that all staff should consider becoming mentors or mentees.
He says: "I would strongly encourage colleagues to take part in Manchester Gold – it is a superbly organised, extremely positive venture, and a very worthwhile thing to be involved with."
Further information
If being a Manchester Gold mentor appeals to you, you can find out more about the benefits and timeline of the Manchester Gold programme, read frequently asked questions from mentors and download an application form at: