The business of beating cancer
27 Mar 2013
The North West's most influential entrepreneurs and philanthropists gathered in Manchester to discuss how business can beat cancer.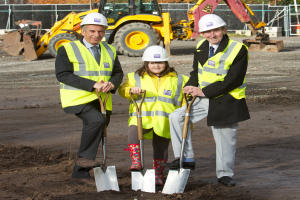 Professor Nic Jones, Chief Scientist of Cancer Research UK and Director of the Manchester Cancer Research Centre (MCRC), and Michael Oglesby CBE, Founder and Chairman of Bruntwood, who chairs the MCRC steering board, told the conference how entrepreneurs and scientists in Manchester are collaborating to be at the forefront of the global fight against cancer.
MCRC is a partnership between Cancer Research UK, The Christie and the University.  The 'More Tomorrows Campaign' is raising the funds needed to build a new £28.5m research building for the MCRC.
"Beating cancer is big business," Michael Oglesby explained. "Like the most successful businesses the MCRC will harness the power of collaboration to drive progress and break new ground whilst delivering economic and social benefits locally. With the vibrancy of the city and its academic, cancer treatment and research heritage, Manchester is poised to become a world leader in developing pioneering treatments and I'm delighted to play a role in that journey."
Professor Jones said: "Manchester already has an impressive legacy in cancer research, but the new centre will put the city on the world map for helping to save lives. To take our pioneering research to the next level, we need more laboratories and more world-class scientists to come to Manchester to help us fight the disease."
"By supporting the capital fundraising campaign, businesses and entrepreneurs in the North West won't just be funding bricks and mortar they will be giving hope to future generations ensuring more families have 'More Tomorrows' with their loved ones."
For more information on the More Tomorrows fundraising campaign and the MCRC visit More Tomorrows