Giant clockwork Solar System arrives at Jodrell Bank
25 Mar 2013
The University of Manchester's Jodrell Bank Discovery Centre has announced the arrival of its newest exhibit – a beautiful and unique mechanical orrery.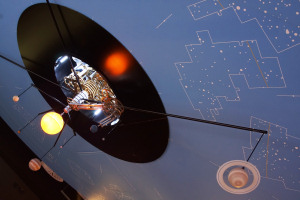 At five metres in diameter, the Jodrell Bank orrery – a moving, model of the Solar System – is believed to be the largest of its kind in the world and includes a complex system of 52 brass gears that ensure that the planets orbit around the Sun at exactly the right rate in relation to each other. Installed in the gallery space of the Discovery Centre's Planet Pavilion, it can be driven by a large winding handle, allowing visitors to orchestrate the motion of the planets themselves.
The orrery is in a gallery that describes 'Our Place in the Universe' and contains touch-screen exhibits describing the Solar System and the scale of the Universe. The walls of the gallery show the view of the cosmic microwave background – the fading glow of the Big Bang – which has recently been investigated in detail by the European Space Agency's Planck space mission.
Built in Acton in London by the innovative team at Science Projects, the orrery turns against a giant 'clock face' in the ceiling of the gallery depicting astronomically accurate constellation maps set out in their relevant positions in the sky. The installation of the exhibit is now complete and will be open from today (Monday, 25 March) and throughout the Easter holiday period.
Dr Teresa Anderson, Director of the Jodrell Bank Discovery Centre, said: "We've been planning this exhibit for almost two years so it's wonderful now to see it in place. As far as we know, it's the largest orrery in the world. It's completely bespoke and unique to Jodrell Bank and gives visitors the opportunity to interact with some of the UK's finest precision engineering and craftsmanship first hand."
Steve Pizzey, Director of Science Projects, said: "We loved making this exhibit and worked alongside Jodrell Bank's Tim O'Brien to create something that is not only beautiful but also scientifically accurate. It's great to know that it will not only be a striking thing for visitors to experience but also be part of the education programme delivered by the centre."
Dr Tim O'Brien, Associate Director of the Jodrell Bank Observatory, added: "This is one of those rare occasions when doing lots of calculations results in the creation of something that is immediately appealing to everyone, regardless of their level of familiarity with physics. It's a handsome piece of engineering."
Ends